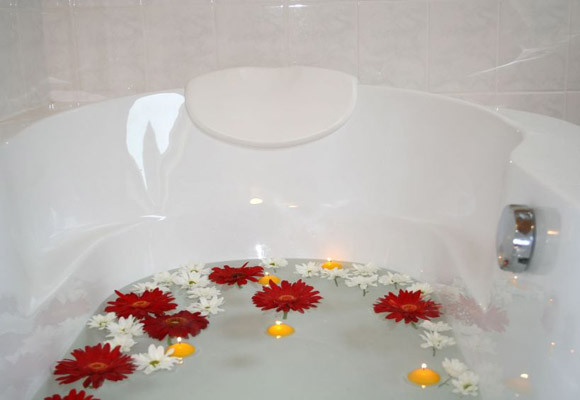 Tile and tub reglazing is often used in bathroom and kitchen remodeling. The bathroom is the second most remodeled room in your home. The kitchen is the most frequently upgraded and remodeled. There can be a lot of money sunken into a bathroom remodeling or upgrade. No matter how much money you have saved just for the purpose of the dream project you have in mind there is always something that comes up that will require you to spend more money than you wanted to spend. There are ways that you can remodel a bathroom and cut the cost putting some of the money back into your pocket. One of those ways is tile and tub reglazing. There are some distinct advantages that you will see when you choose to remodel your bathroom by tile and tub reglazing.
Change the Color Theme of the Room
The main issue when we decide to remodel is changing the whole theme or color of a room. This can be done by choosing from colors such as white, bone, biscuit, or almond for some of the basic glaze colors. These particular colors tend to blend well with some of the more popular choice for your ideal bathroom colors. You can also choose from a line of designer colors that the innovations of today have given us. Much like a fresh paint on an old car a fresh color on your tubs and tiles will make your project standout.
Save Your Time and Effort by Tile and Tub Reglazing
Another great advantage of shower, tile and tub reglazing is the less demolition you have to take part in. Some of the older tubs are made of cast iron and can be very heavy to move and relocate. If you had to carry this tub up or downstairs, you would probably reconsider replacing the tub and move towards the bathtub refinishing. Another advantage of tile reglazing in your shower also has to do with demolition. If you have ever tried to tear down a shower that is made of plaster and tile you know how big of a task this is. Reglazing the tiles you already have in your shower will save you a lot of time and work. Not to mention how much more the cleanup from a tile and tub reglazing job would be.
Give Your Tub and Tiles a Renewed Look
A lot of times you may not be looking to remodel the whole bathroom you just want to do some cosmetic work. Older tubs do obtain scratches over the many showers they are exposed to. Glazing can fill in the scratches and chips giving your tub and tiles a renewed look.
Get Rid of a Dull Finish on Tub, Shower and Tiles
Another thing that will dull the finish on tubs, showers, and tiles is the constant cleaning that these items will endure. The cleaning solutions that are used to clean your tubs and tiles over the years will dull the finish in a big way. Not only does the finish appear dull there are also minor scratches that develop with the use of some cleaners that contain abrasives. The next time you are considering remodeling your bathroom to upgrade consider taking advantage of tile and tub reglazing to help you save time as well as money.