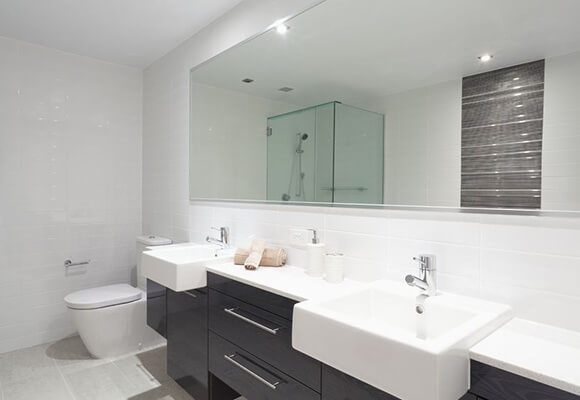 Choosing the right bathroom plumbing fixtures is a very important step of any bathroom remodeling or construction job. You have already spent the money and time upgrading or adding the correct shower that will fit your need in your bathroom. You want to make sure that the bathroom plumbing fixtures (Learn also: Main Tips on Choosing the Right Bathroom Fixtures) you choose will give you the same quality and years of performance that your new tub or shower will give you. There are many options available for you to make your decision when choosing a sink, faucet, or toilet to add the design and purpose you are looking for in your new bath.
Bathroom Plumbing Fixtures: Sinks
Sinks are available to you in many different sizes, shapes, and finishes. You will want to keep in mind the theme or setting of your bathroom when you make this decision. Your sink will serve as a main focal point in your bathroom. It will be the most used one of bathroom plumbing fixtures so keep this in mind when you make your decision. You will want to use a sink that is easy to use and can accommodate the right type of faucet that will fit your needs. A pedestal sink will save room, will not have a storage option that you will have with a sink that is mounted in a vanity.
Material Options for Sinks
A range of material options opens up a lot of room for creativity in your bath. One of the most common materials sinks have been constructed in the past is china porcelain. This material is commonly white or ivory but can also be found in many other color options. Glass is also another material option but can be more expensive. Cast iron is a heavy duty option while other materials such as copper or bronze or popular but will take more maintenance.
Bathroom Faucets
Faucets are available to you in many different styles. Today's faucets are designed to be more water efficient than ever before. Most of your faucets are made with built in water savers. The faucets of today are also constructed with materials that are less corrosive that will provide with a longer lifespan. When it comes to design you have more choices available to you than you might think. There are single handle faucets for easy operation as well as your standard two knob function. You can also choose from your standard faucet and faucets that have a longer neck on them that will make them easier to use. You will need to take a visit to your local home showroom to see and try the many options available to you. The style of faucet that you use will need to be determined on your personal preference.
Toilets
Your standard toilets are 14-15 inches tall. You can also purchase toilets that are taller at 16-18 inches tall. You need to take into consideration which height will be a better fit for you. Taller toilets will be a better fit for wheelchair accessibility (Read also: Custom Bathroom and Shower Designs for Elderly and Handicapped). Toilets are available to you in a full range of colors. You may also choose from your standard two piece toilet or a more expensive one piece choice. Today toilets are also designed to use less water helping save money and to conserve water.
Regardless of the choice you make when you choose your bathroom plumbing fixtures you want them to look good as well as functional. Visit www.skywindowsnj.com to learn more.