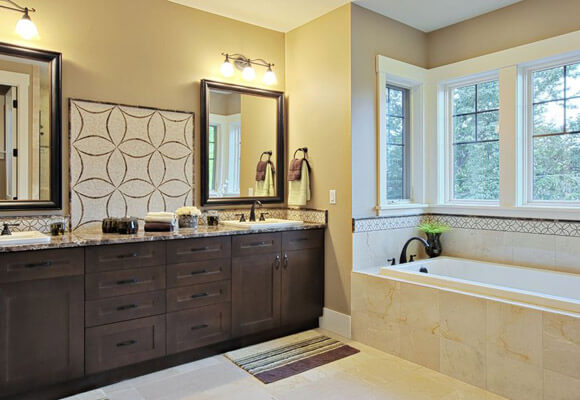 If you are looking to add a new bathroom or remodel the bathroom you have, there is one consideration that should really be put to thought. If at all possible there should be a window added to your bathroom. If your bathroom is located on the outside walls of your building this would be a great place to add bathroom windows. If it is located on the inside location of the building where there is no exterior wall, then you should consider a skylight or sky tunnel. By adding natural lighting to your bathroom there are several distinct advantages you will benefit from. We will take a look at some of the ways natural lighting through bathroom windows can add safety and elegance to any bathroom.
How to Remove Bathroom Mold Naturally
The lighting that enters the bathroom is also a great healthy addition to any bathroom. The bathroom is one place where the threat of mold development is a constant problem. A bathroom needs to be cleaned often to keep the moisture level down in the bathroom to prevent mold. Providing natural sunlight through bathroom windows is a way to deter mold development naturally. Developing mold will be slowed down and in most cases completely stopped when natural light is introduced to mold.
Best Lighting for Makeup in a Bathroom
Natural lighting will also provide you with better lighting in your bathroom that will help in the everyday task we perform such as putting on makeup. You will see a truer color with natural lighting versus the lighting from incandescent and fluorescent bulbs. A lot of times when vanity lighting is used you will receive a glare from the bulbs that will make it hard to use the mirrors. You can still use the vanity lighting but with the aid of natural lighting you will be able to use smaller wattage bulbs that will help to keep you from feeling the extra heat that is produced by the higher watt bulbs.
Bathroom Windows Ideas
Privacy could be an issue if you add windows to your bathroom. There are several ways to install windows and still have your privacy. Of course one of the ways is to add blinds to your windows. Bathroom windows are also available with obscured panes. This means that you will receive natural lighting but you cannot see through the window. You can also consider using glass blocks or stained glass windows that will provide adequate privacy.
Why Fixed Pane Windows Are Not the Best Choice
Bathroom windows are available to you in two different ways. They can be fixed panels that can be stained windows or glass block windows. But the best option is using a widow that is operational. If you can open and shut your windows it will help to remove moisture from the room that will help to keep mold development down. Adding windows to your bathroom not only helps to save energy, it is a healthy addition to any bathroom. There are tons of choices to choose from to add a touch of elegance to any room in your house.
Visit your local window provider, SkyWindowsNJ.com, to see the many choices you have available to you. SkyWindowsNJ.com also provide, window installation brooklyn, window replacement, glass shower doors.