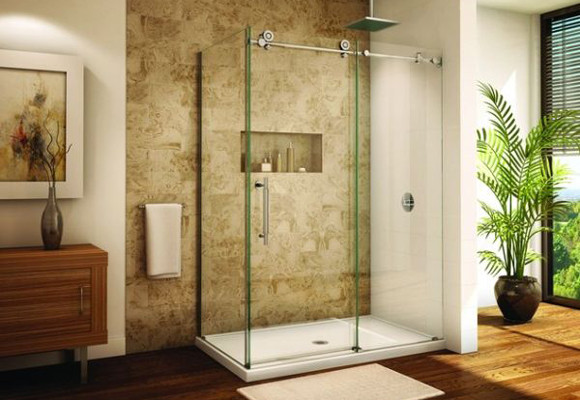 Shower doors have come a long way since the tub enclosures that I remember as a young child. The shower enclosures that we were accustomed to installing came with a rail to mount to the tub at the bottom of the doors with a bracket on each end of the tub with a rail that would run across the top that the doors would hang from. These doors were made of a plastic that was obscured and very light. They were not water tight at all and you ended up cleaning the water from places around the tub enclosure.
Custom Shower Doors Brooklyn – Modern Improvements
There have been some major improvements in today's shower doors. They are extremely watertight and can be made just about any style you can imagine. With the development of walk in showers and custom showers custom shower doors brooklyn have become a work of art for your glass contractor. Custom shower door brooklyn can be adapted to just about any shower situation that arrives. This is why custom shower doors brooklyn are available in several different styles to meet these needs. We will look at some of the most popular styles that are available today.
Sliding Shower Doors
Sliding shower doors are the most popular door style that is available today. These doors are also known as by pass doors. These doors are installed on a track and will slide past one another. These doors will bypass one another and will require less room for installation. These doors are also very easy to clean. Glass shower doors ny, nj are available in several types of glass including obscured glass for privacy.
Curved Shower Doors
Curved shower doors are available for showers that have a limited amount of space. They will also add a look of elegance to any shower space. They are made with a sleek appearance that will add a special touch to any bathroom. The doors can be custom fit with any type of glass you choose. You may choose a decorative tint for color or you may also choose frosted glass for privacy. No matter which type of glass you choose you can add hardware as well as towel racks and accessories to add to the elegance of any shower.
Swingning Shower Doors
Swinging doors are door style that will swing out of any shower. They are available to swing out to 180 degrees, 135 degrees, or 90 degrees depending on the situation. Magnetic catches are often used to hold the shower shut while you are showering to maintain a watertight seal. These types of custom shower doors brooklyn can be made to almost any size but they are better fitted for bathrooms that have more room. Swing out doors will add a touch of class to any bathroom. These custom shower doors brooklyn are also available in frame or frameless construction. A huge variety of hardware and accessories are also available to add to the elegance of swing out doors.
If you are remodeling or in a new construction project take careful consideration when you are choosing your custom shower doors brooklyn. Be sure to check with your plumber or local contractor, SkyWindows NJ.com, to see the many options available to you when you choose your shower doors.
SkyWindows NJ.com provide as well, window installation new york city, replacement windows new jersey, aluminium windows brooklyn.