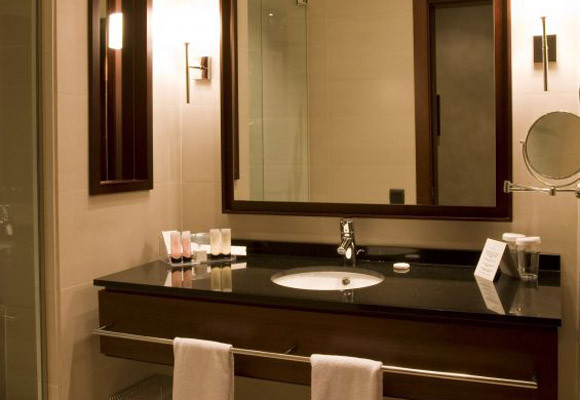 Glass has been around for centuries even before the BC times. In those days glass occurred naturally and it was used in ways that were looked at as precious commodities. The first thing that comes to our minds when we think of glass is windows. Windows have helped us to look through walls as well as helping us to feel more comfortable in the different weather climates we live in. Today techniques have been developed to help us use glass in many ways that were not conceivable in the past few years. Glass and architecture are combined in ways today that allow for some really awesome designs. We will take a short time to look at the ways glass is being used today in a glass shower enclosure and for a glass countertop.
Glass Shower Enclosure
Glass allows for the development and construction of walk-in showers in places that you have never dreamed that you could put a shower. Glass shower enclosures can be made almost any size and shape to accommodate for a shower to be constructed almost anywhere. There are several different types of glass available to you for the creation of almost any type of ambience you prefer in a shower. Clear and tinted glass is available for you as well as obscured glass choices for people that prefer more privacy. Smart glass technology of today allows for glass to go from clear to obscure by the flip of a switch. You can pair your glass showers with the many types of hardware that is available for you to create your own one of a kind shower.
Coated Glass Countertop/Vanity Top
As the years have past our countertops have been through many years of abuse as well as many different types of materials that have been adapted for use on our countertops. I can remember the days when laminated countertops were the way to go. These countertops were available to you in any color imaginable. Laminated countertops needed replacing after a few years. The development of stone and granite tops gave us a longer lasting option. Today there is a glass countertop option that is available for you to consider. With the development of laminated glass you can obtain a glass countertop that is much like the glass top stoves we are using today. Not only are these glass countertops strong they are much easier to keep clean. The ease of cleaning that the glass countertop provides makes it an excellent choice for use on bathroom vanity tops.
Implement Glass in Your Project
These are only a couple of ways that glass in being developed and used in many different ways in today's architecture and design. There are many ways that glass is being developed for use to give us the elegant choices we have from glass today. If you are deciding on a remodeling or a new construction project it is time you visit your local glass contractor, SkyWindowsNJ.com, to be sure to see the many ways glass can be used today in your shower enclosure and for your glass countertop. Not only does glass look amazing it will also last you for years to come.