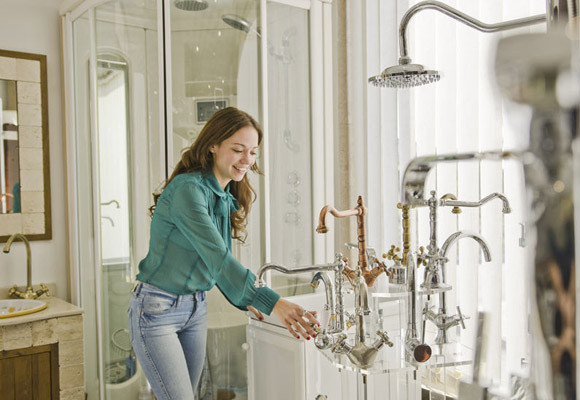 Choosing your bathroom fixtures can make or break a bathroom remodeling project. There are so many different types as well as different colors and finishes available to make your decision harder. Knowing how each finish will age and react to years of exposure to water and steam will have a determining factor on your choice of bathroom fixtures. The color scheme of your project will also determine the choice you will make when it comes to your fixtures. Paired together with the right bathroom hardware you will create some of the best looking effects that you have ever seen in baths today. We will look at some of the most popular choices available to you to help you with your decision.
Polished Brass Fixtures
Polished brass is one of the most popular choices.  This type if finish is more suited for a vintage look. It is a durable finish that is easy to clean and it can easily be found. Polished brass can easily match other types of bathroom fixtures. Polished brass is one of your more expensive choices. Satin Brass is much like the polished brass except it doesn't appear as bright of a finish as polished brass. It will offer a nice accent without overpowering the color in your bathroom lavatories and showers. However satin brass is usually harder to find therefore making it more expensive than polished brass.
Oil-Rubbed Bronze Bathroom Hardware
Oil-rubbed bronze is another option that is growing in popularity. If you are looking for a more traditional feel and look in your bathroom then oil-rubbed bronze is for you. This type of fixture is durable and easy to clean. This type of finish will also not show water and fingerprints like other finishes. It is however more expensive than your standard chrome and brushed nickel finish. This is a great choice for traditional and Mediterranean themes. It is also one of the harder finishes to find in the fixture type you may need.
Copper Bathroom Fixtures
Copper fixtures are definitely a unique choice. It goes really great with materials such as a marble top. One thing about copper is the fact that it gets better looking as time goes on. Copper patina is fast becoming one of the favorite options of bathroom fixtures today. It is also harder to match accessories to copper fixtures.
Less Costly Options
There are other very popular choices such as polished nickel, brushed nickel, and chrome that are more common and will be less costly. These fixtures can easily be cleaned and they are also less expensive that other fixtures. The reason they are less expensive is because they are the most commonly used finishes for bathroom fixtures, faucets and shower head fixtures.
There are shops and stores that deal strictly with bathroom and kitchen fixtures. When you visit their showrooms you will see some of the best displays of fixtures available to you today. If you are considering to build a new bathroom or are now ready to upgrade the fixtures after tile and tub reglazing you now have to take the time needed to contact your local contractor, SkyWindowsNJ.com, so they can get you headed in the right direction. SkyWindowsNJ.com also provide, glass shower doors installation, glass shower enclosure.