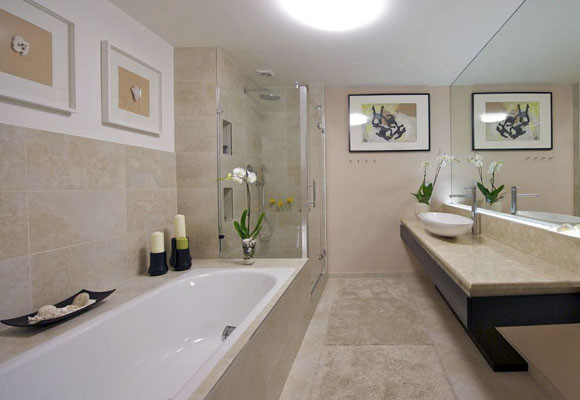 Bathroom remodeling can be one of the most expensive remodeling projects that you will undertake. One of the biggest costs that you will have to take into consideration is the expense that your plumbing fixtures will cost you. After you spend most of your money on installing new cabinets, flooring, toilets as well as new faucets you do not have much money left to replace one of the main fixtures in your bathroom. The last remaining fixture is your bathtub or shower. Regardless of the type of materials your tub is made of you regain the luster your tub once had by bathtub refinishing and saving tons of money. Perhaps you have purchased an older fixture and want to refinish it to match your new remodeling endeavors. We will take a look at some of the questions involved in your tub remodeling process.
Bathtub Refinishing Steps
The material your tub is made of could be a material such as fiberglass, porcelain, acrylic or cultured marble. Each of these tubs will go through the same process. The first step is a thorough cleaning process which uses a two-step formula that will remove years of soap scum and body oil buildup. Mineral deposits will also be removed during this step. The next process is to repair all of the cracks and chips in your tub. A bonding agent is then applied to help your tub to receive the final coat. A fine-finish spray process is used to apply a double acrylic hi-tech finish.
What Does the Finished Product Look Like?
After your acrylic finish is sprayed it will be buffed until it will match the finish you are looking for. This surface can be buffed until it has the high gloss finish you are looking for or it can be finished to match the finish the rest of your plumbing fixtures have. This finish will also be a very smooth finish to the touch. Also a huge variety of colors is available so you can match your newly remodeled surroundings. Not all bathtub refinishing companies are the same. Be sure to use a company that will do all the proper steps.
Bathtub Refinishing: How Long Will It Last?
This is the number one question that is always asked when it comes to the decision of refinishing or replacing. All of us want a great return on our investments. A bathtub refinish job will extend the life of your tub for another 10-15 years. You will have to use the same basic care and guidelines that your tub manufacturer recommended from the beginning. A lot of your top of the line bathroom fixture manufacturers do not recommend harsh cleaner to use on their fixtures. Be sure to follow some simple basic guidelines to get the biggest return on your investment.
When you do get to the point of deciding if you want to replace or refinish just remember the amount of money you can save on your project by considering a shower or bathtub refinishing. After all we do like to save money. Be sure to check with your local bathtub refinishing company and do your research to see if refinishing is a good option for you.