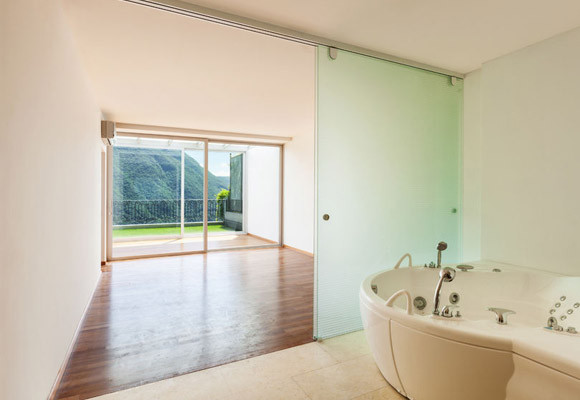 Many types of applications have been developed for the use of glass. If you enter any type of public building such as a mall, office building, or even hospitals you will notice the use of glass to separate the rooms from one another. Glass has become a very elegant design choice that is used in many building today. Glass is used because of the elegant look it will provide but also for the qualities that glass will offer such as low maintenance and the versatility that glass provides. There is a new type of glass that has been developed recently called smart glass. In the next few paragraphs we will look at what smart glass consists of as well as the many different uses that smart glass is made for.
What Is Smart Glass?
Smart glass is two layers of glass that has been laminated together. In between the two layers of glass a Polymer Dispersed Liquid Crystal (PDLC) film is applied. This film will allow your glass to change from clear to opaque. The darkness level can be controlled much the same way that a light dimmer switch works. The glass will remain clear until the PDLC film is activated. You are in control of the way you want your glass. The PDLC film is activated by switching it on much like a light switch. In clear mode an electrical current is passed through the PDLC layer allowing vision through the glass.
How Is It Used for Commercial Purposes?
There are a number of different applications that smart glass can be used. Residential as well as commercial application are used with smart glass. In commercial use you can turn a glass wall enclosed office that is open to the surrounding area into a private meeting area. If you activate the PDLC it will give you all the privacy you need to hold your private conferences.
Smart Glass Application for Residential Use
In many home applications smart glass can also turn an open area to a private area. One of the most common application for residential use is around a shower design. Smart glass can also be heat activated so when the shower is turned on the clear glass around the shower will turn opaque allowing for you privacy. Many single partitions are made from glass that separates larger rooms to smaller rooms. These particular glass partitions can be fitted with the smart glass to take advantage of the privacy smart glass can provide.
Openings through your home or office can be fitted with a smart glass to help create different looks in your home or office.
Energy Saving
Applications of smart glass have been known to be placed to help filter out the natural lighting that could heat up a building. You can use clear glass when you want to let the light in and you can control how much light you want entering your room or office.
Make sure to ask your local glass contractor, SkyWindowsNJ.com, about smart glass in your home or office.