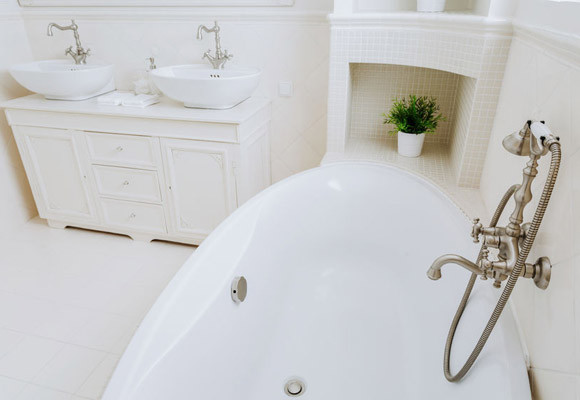 In the bathroom industry of today one of the biggest decisions we have to make is the type of shower head we need in our new showers. There are so many fixtures to choose from that this could be a daunting task for anyone. Making this choice sometimes includes a personal preference but we also need to consider functionality also. Shower fixtures cost a lot of money and we want to make the right decision when it comes to a long lasting and useful option. Shower heads are found in five different types. Many have adjustable options when it comes to spray pattern and water intensity.
Single-Head Spray Shower Heads
This is the most common option you have. Most of the times this type of nozzle can be adjusted to help with the water flow. They can also be adjusted up and down to accommodate the height of any person. Some of these single shower heads can also be adjusted to change the water pattern from a wider spray to a more concentrated flow. This shower head is also available in different finishes.
Rain Showers
This is a more modern approach to choosing a shower head. These are large, flat heads that are suspended directly above the head of the user and will spray straight down. A rain shower head can be chosen from many different water patterns.
Dual and Multiple Shower Heads
In this type of shower head more than one shower head is controlled by a single lever or handle. The most common configuration is having a shower head located as a wall mount along with a handheld fixture. In some cases you can use both at the same time or use a lever to choose which head you will use.
Hand-Held Shower Heads
This type of fixture is made with a single shower head that is attached to a flexible hose. This is a great option for washing hair and reaching hard to get to regions. These are especially a good choice for individuals with a limited mobility. This is a good choice for individuals that need to be sitting while showering.
Body Sprays
This is probably the most expensive shower fixture you can choose. They are multiple shower heads that are built into the shower wall at different heights. The heads are compact, flat and are sometimes flush with the shower walls. The options are limitless when you choose the location of these heads. The only drawback is the more heads you use the more expensive your project will become.
These are the most common types of shower heads you have to choose from. Each one of these heads are also available in many different finishes that will only add to the elegance of your bathroom enhancement. Be sure to visit your local home center and consult with your local contractor, SkyWindowsNJ.com, to see the many different combinations you have to choose from. SkyWindowsNj.com also provide, glass shower doors installation, walk in shower. Careful planning will always help your bathroom remodeling and upgrade to be a complete success.