Do you want to maximize occupancy while maintaining a modern office space? Do you need to create separate spaces for your team, but don't want your workspace to feel crowded? Forget cubicles. Think beyond the cubicle. Glass partition walls help you create private work areas without the clutter.

Office Partition Walls, Glass Partitions Solutions
We are bonded, licensed, and insured
We have extensive experience in designing, building and installing everything from curtain walls and storefronts to entrance doors and all-glass railings – on projects ranging from a single door to tens of thousands of square feet of glass – we have the knowledge to address virtually every commercial glass need.
To maximize your Manhattan office space, review a wide variety of internal office partition walls. After you've seen all your options, you'll appreciate the advantages of using elegant, functional glass partition walls for office space divisions. Frosted glass office partitions ensure that your employees have privacy without suffering the confinement of a cubicle farm or a closet-sized space.
Smaller offices can appear lighter and more spacious with transparent partitions. Larger spaces can become loftier and more expansive. Inspire your team with positive working conditions that promote creativity and productivity. In New York and New Jersey, you don't have to settle for an oppressive space with the help of glass partition walls for offices.
Custom Work, Superior Quality
With Sky Windows & Aluminum Products, all commercial goods are engineered to be long-lasting and easy to use. Our skilled professional team can custom-fit any workspace to your specifications with clear office partition walls. Sky Windows designs, fabricates, and installs glass walls for workspaces in Manhattan and beyond.
Premium, customized products ensure your space is unique. By adding artistry in your commercial space, you add value to your office and inspire your team to peak performance. With elegant designs, you can seamlessly integrate sliding doors or even install sunshades with little to no interruption of your workplace.
Premium Italian Hardware
Sky Windows & Aluminum Products installs and assembles your glass office partitions with quality components. Expect quality, long-lasting construction that's still stylish and reasonably priced. Glass partitions feature many options and amenities:
Glass walls for your office
Glass partitions for your office
Premium Italian hardware
Plastic clips for easy glazing and dismantling
Various glass, up to ½-inch thick
Integration of single or double doors
Custom-fit quality
Timeless function
In New York and New Jersey, you'll find nothing but the very best in materials and construction. Excellence is the standard. The extremely satisfied customers are Sky WIndow's crowning achievement. A focus on individual customer attention and consultation ensures that every job exceeds your expectations.
Strength and Clarity
Sky Windows & Aluminum Products integrates style and function into business offices throughout NYC and the surrounding areas. When you need the vision and ability to bring open clarity to your workspace, call on Sky Windows. Experienced designers and installers work with your designer, architect, and other contractors to find the best options for your particular space.
Sky Windows fabricates and installs all types of aluminum and glass partitions. You'll find excellence in every step. The outstanding craftsmanship increases the value of your real estate. Achieve the dreams you have for your office space by thinking outside the cubicle.
Unparalleled in New York and New Jersey
Highly-trained installation experts provide fast and efficient service. Their work is fine enough to grace the offices of Manhattan and the greater New York area. Take pride in your business.Only deal with professionals when it involves the future of your company. Call or write for an estimate to drastically improve the quality of your work environment and shed new light into your world.
Request Free Estimate
Call us for an appointment or stop by our showroom
We invite you to visit our designer showroom or call for an appointment so we can discuss the material varieties and designs that will best compliment your commercial or residential needs. Our highly skilled installers are well-known for providing the absolute best work that consistently exceeds our customer's expectations.

GET A QUOTE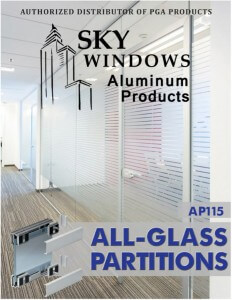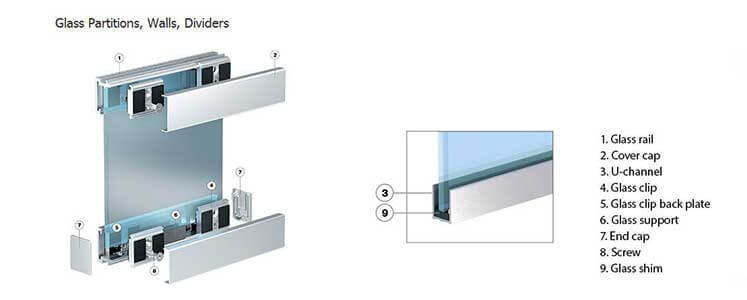 Glass Partitions
Our residential and commercial glass partitions are quality engineered for durability and ease of use. We can provide easy and efficient fabrication and installation. Allows for seamless integration of sliding doors, sunshades installation.
We offer furnished to order products as well as a full range of components. Contact Sky Windows and Aluminum Products for a quote for the finished product as well as assembly components.
Glass Partitions Features
Plastic clips for easy glazing and glass dismantle
Accepts various glass up to 1/2″ thick
Allows for integration of single and double doors all-glass and FP111 series framed doors
Premium Italian hardware
Aluminum Glass Partition System Applications
Easy and efficient fabrication and installation of interior partitions
Easy fabrication and installation of office doors (solid wood core, all-glass, framed glass doors)
Sky Windows and Doors
2545 Stillwell Ave., Brooklyn, NY 11223
(718) 517-9178 | (888) 759-5963
Map (Directions)