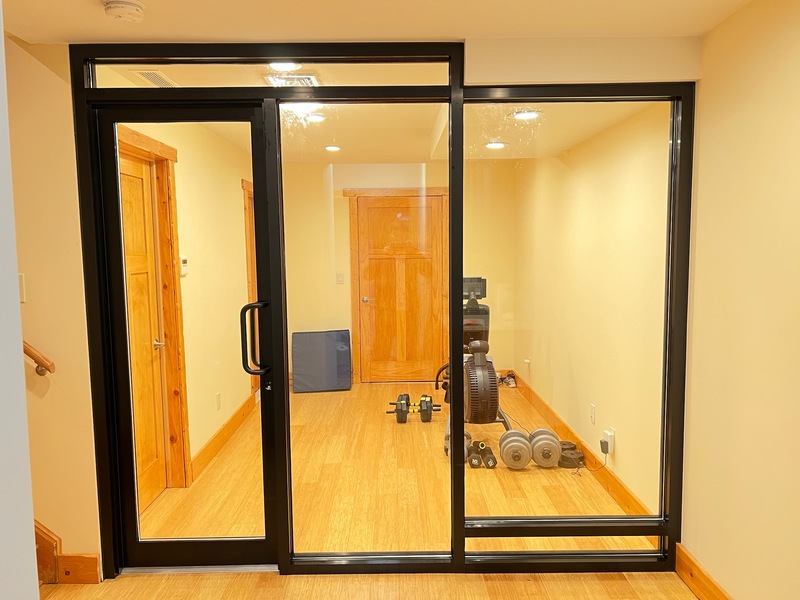 A door is not merely an entrance or exit; it has style and grace. It offers fire, theft, and weather protection. It opens into a home, an office, a conference room, a garage, or a warehouse. It can lock in place or swing open automatically. It can be plain or ornate. Its glass can be transparent or opaque.
The door of your New York City house or Manhattan commercial space — for better or worse — often sets an expectation or a mood when a visitor, family member, or employee crosses that threshold. You have the opportunity to set that expectation and adjust that mood by having Sky Windows & Aluminum Products design, build and install your next glass doors, aluminum doors, and more.
Residential Glass Doors
Not all residential doors need to be made of wood. You can have beautiful yet sturdy aluminum doors or glass doors. Sliding glass doors continue to be popular for New Jersey houses or New York City condos. Sky Windows can install standard or custom-sized sliding glass doors to lead to your deck or backyard. Safe and beautiful, sliding glass doors provide comfort and ease. And sliding glass door curtains that match your décor let the sunshine in or protect your privacy.
Every new door can be built to fit your current or projected design. Replacement glass doors or aluminum doors for your home:
Increase the value of your house
Improve the appearance of your home
Are constructed of fire-retardant materials
Come in styles for interior and exterior use
A new garage door for your NYC-area home protects your belongings and helps make your home look new again. Garage doors often get a lot of use, and they don't last forever. Sky Windows offers an extensive line of high-quality materials such as fiberglass or steel, and there are styles to match your home.
Commercial Glass Doors
Doors for your commercial business in New York City or in any of the other parts of the city have specific requirements. They have to be inviting, functional, and easy to maintain. You have your choice of materials for your commercial doors:
Commercial glass doors provide inexpensive options, but still offer advantages like fire resistance and thermal properties.
Herculite doors — all-glass doors — look impressive. While herculite doors may be best used for interior doorways, they can lock securely.
Commercial aluminum doors are lightweight and come in hundreds of colors. They can be insulated, if needed, and come with a variety of hardware.
Every commercial door from Sky Windows & Aluminum Products comes in a variety of architectural styles and delivers high thermal performance. They can swing in or swing out. You can get single doors, double doors, or rotating doors, with windows or without windows. All the doors are installed by experts to eliminate complications. Other advantages of Sky Windows doors include:
Various width sight lines
Glazing choices
Tested to the highest standards
Tilt or slide hardware
Dual-color extrusions possible
Multiple lock points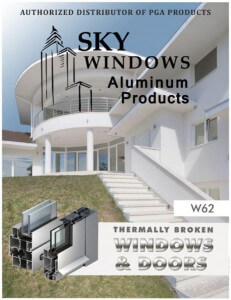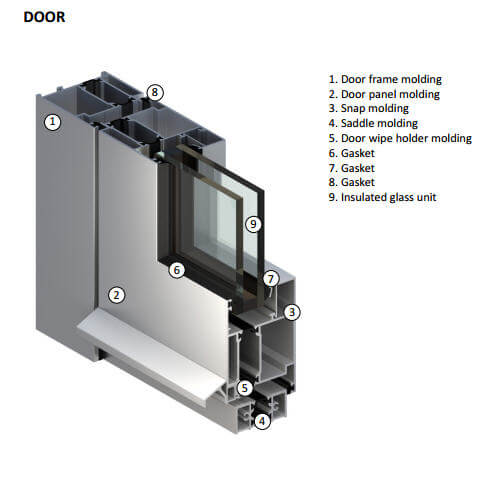 Request Free Estimate
Call us for an appointment or stop by our showroom
We invite you to visit our designer showroom or call for an appointment so we can discuss the material varieties and designs that will best compliment your commercial or residential needs. Our highly skilled installers are well-known for providing the absolute best work that consistently exceeds our customer's expectations.

GET A QUOTE
Door Design, Manufacturing, and Installation
Our home and commercial entryways are quality engineered for durability and ease of access. We can provide recessed panels, contemporary designs, laminate surfaces and a fantastic selection of exotic wood veneers. We have a complete selection of safety- and performance-tested industrial and overhead solutions which include rolling-steel garage entrances.
Large Array of Commercial & Residential Styles
Insulated materials
Non-insulated materials
External applications
Internal applications
Fire-rated materials
Doors System Applications
Ideal for commercial and residential applications where high thermal performance is desired
Ideal for storefronts
Commercial Glass Doors Features
High thermal performance, architectural window and door system
Various width sight lines
Glazing choice from 5/8″ to 1 9/16″
Thermally broken components ensure high thermal performance
Designed for integration with high-performance curtain wall system F50
Return panels and variable angles are available
Premium window and door hardware
Tested to the latest high-performance air, water, structural and thermal standards
Fixed, a project in, tilt and turn, hopper windows
Swing in, swing out single and double doors
Over 200 colors available including 22 anodized finishes+ 2 wood grain patterns
Moisture management system
Simple and proven Eurogrove window solution
Commercial Glass Doors Optional Features
Tilt and slide hardware
Automatic saddle
Plastic adaptor for easy flashing installation
Shaped operable windows
Dual color extrusions
Multi-point locks for entrance doors
Sky Windows and Doors
2545 Stillwell Ave., Brooklyn, NY 11223
(718) 517-9178 | (888) 759-5963
Map (Directions)