Storefront Design and Installation in New York & New Jersey
A great storefront attracts customers, drives people inside your store, and helps your business earn profits. If you're a New Yorker, you know it takes a lot to grab our attention. The design team at Sky Windows knows exactly how to create an aesthetic storefront in your unique style.
The Sky Windows NYC storefront construction company crew pays attention to the smallest detail. Custom design and expert installation bring your vision to life without complications. With the best materials and perfect installation, you don't have to worry about fading. Sky Windows & Aluminum Products stands behind their design and construction work.


Storefront Glass Systems
We are bonded, licensed, and insured
We have extensive experience in designing, building, installing and replacing everything from curtain walls and storefronts to entrance commercial storefront doors and all-glass railings. Our projects range from a single door to tens of thousands of square feet of glass. We have the knowledge to address virtually every commercial glass need. We work with top architects and are among the best-rated storefront construction companies in NYC.
GET A QUOTE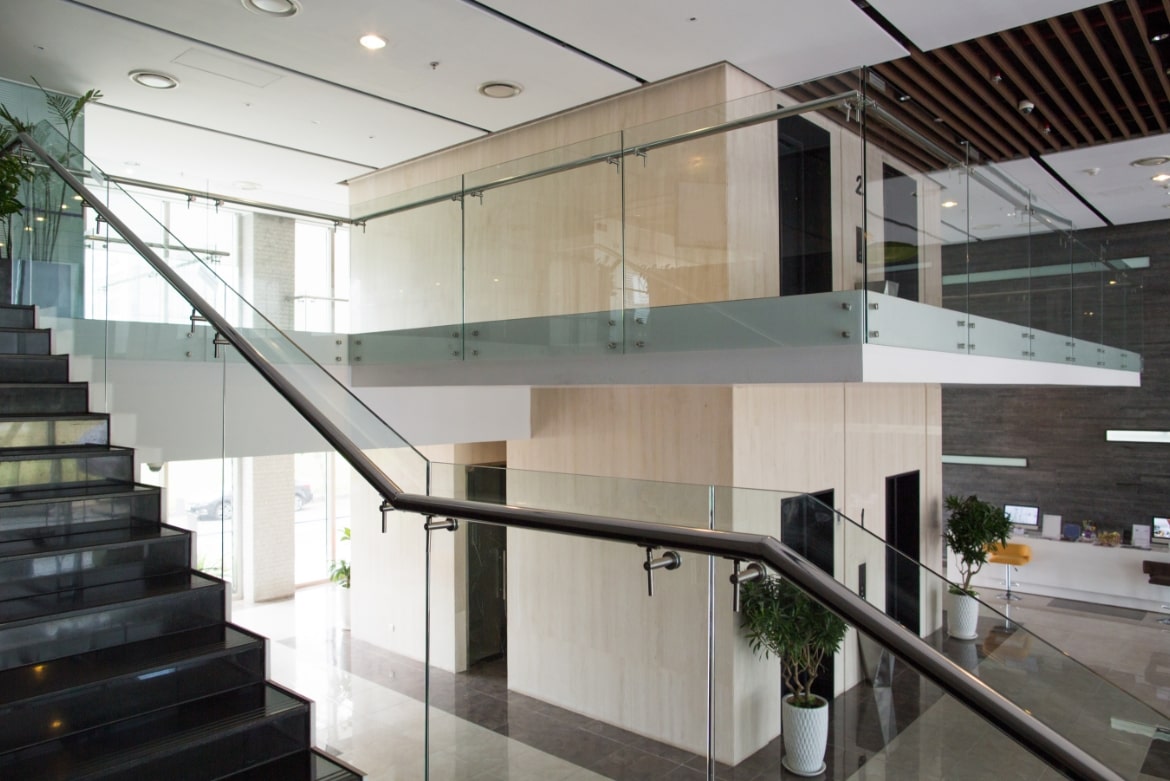 All New York and New Jersey retail businesses need to appear professional, modern, and most important of all- inviting. The physical location of your store can draw more visitors with a striking glass design that entices passersby. Review the samples of storefront construction on this page for a glimpse into the creative process installations of other constructions.
Your storefront design can reflect the personality of your business. It doesn't have to look like every other business along your street or in the mall. Our company can translate your ideas and dreams into a design you'll be proud of. All while accomplishing your goals. Trust our installation experts when it comes to your design, the most important asset: your business.
Creative Design Delivers Successful Storefronts
NYC storefront design experts at Sky Windows specialize in commercial storefronts for discerning customers. Keeping your aesthetics and concerns firmly in mind, they can design a modern storefront in Manhattan or anywhere in the Tri-State area. Storefront glass and aluminum installation have many artistic and functional applications to create the perfect solution:
Frosted glass storefronts. People are naturally curious, and frosted glass produces an air of mystery: what's behind there? Shield your customers' privacy stylishly if you own a bed and bath or mattress store. Frosted glass also offers a beautiful backdrop behind a clear display.
Glass canopies over your entrance. Canopies protect your customers while making your business stand out. You can choose your construction from a variety of options to capture the look you want. Prospective customers can examine your merchandise from under your canopy.
Clear glass storefronts. The most common choice shows off your merchandise, but it also lets light spill into your store, helping make your interior bright, cheerful, and alluring. Window displays behind clear glass have existed for decades because they draw in customers.
Stained glass storefronts. This artistic option can bridge the creative gap between a modern establishment and an older neighborhood. Stained glass achieves a look that entices a broad range of shoppers. Use a little or a lot to hint at what's inside your store. We provide the best quality thick glass construction options.
High-Quality Storefront Fabrication
Provide your store the safety you need and look attractive. That's not a tall order for the design pros at Sky Windows. They use the best materials for your construction to give your storefront lasting durability and low maintenance. Your construction will continue to shine at your location, pulling in customers, and providing you peace of mind.
See Your New York City Storefront
Realize your vision of your storefront in Manhattan, Brooklyn and beyond. See samples of what your business can become or just get ideas for a brand new storefront installation. Sky Windows & Aluminum Products professionals can make it real. To learn more:
Request Free Estimate
Call us for an appointment or stop by our showroom
We invite you to visit our designer showroom or call for an appointment so we can discuss the material varieties and designs that will best compliment your commercial or residential needs. Our highly skilled installers are well-known for providing the absolute best work that consistently exceeds our customer's expectations.
GET A QUOTE
Commercial, Retail Storefront
At SkyWindows & Aluminum, we provide our clients with the absolute best quality and artistic designs. We build customized and practical weather resistant storefronts in New York, New Jersey, and throughout the tri-state area.
Striking Storefront Designs
When a potential customer takes that first glimpse at the storefront systems, an initial impression is being formed and expectations are being set. Our work brings the added value that businesses require to showcase their products and increase their sales. The striking designs that we are known for, are specifically created not only to be aesthetically pleasing but to lure shoppers into your place of business.
Storefront Windows
Many individual business owners are unaware of the fact that creating a design that a potential customer sees from the street is an exact science. Our goal is to display products and construct an eye-catching visual presentation. We also understand that each business we work with is unique when it comes to the way potential customers perceive that store. If the appearance of a storefront is not constructed correctly, a potential customer may immediately dismiss that particular store as unprofessional. Or worse, they might not even register the presence of that store at all when it just blends into the background!
This is the main reason why we pride ourselves so highly on the work that we do for our clients. The professionals at our company understand the complex guidelines that dictate what buyers are attracted to with a perfect visual approach to a particular design. But, of course, the quality must be superior. Fading and overall deterioration of the design will not become a detriment to the goals of a business owner.
Best Materials and Exact Construction Standards
We utilize only the best materials and exact construction standards that will allow a store owner's exterior presentation to be visually pleasing to the eye for years to come. Whether you need our assistance just to keep storefronts NYC from closing improperly or more extensive construction, we're here to help you with all your business needs when it comes to the visual perception of your store.
See more articles about Storefront Design and Storefront Installation:
Commercial Doors New York – Storefront Design

Storefront Glass Options
One of the most important things to consider if you are a store owner is customer appeal. You want to attract as much attention to your store as possible. When you are window shopping you know you are drawn to the most appealing display. With today's construction methods there are many choices available to you when you are remodeling or constructing your storefront. You should take careful consideration as to the type of framing you will be using. The same consideration should be taken when you are choosing the perfect glass for your project. There are several types of glass options to choose from to help your design stand out from the rest.
Clear Glass Storefronts
This type of glass is the most common that is being used in storefront design. Most retail stores will use this type of glass to show off their merchandise. Clear glass will also allow for natural lighting inside the store, while also allowing customers who are window shopping to view the products you are showcasing. You can also place products on display that you think will draw customers inside your store. Think about the times you passed by windows only to see something catch your eye and pull you inside.
Stained Glass Storefronts
Clear glass is not the only option available to you. You may have the type of store that you do not want to maintain. Or you don't want to keep changing the way your displays look when you are using clear glass. You may also be in a part of a city or neighborhood where clear glass does not fit the surroundings. Stained Glass will give you many options when it comes to decorating your storefront. You can use a certain theme to get the message out about the products you are selling. Stained glass is also a great option if you are located in an older part of town where the store owners want to keep the landscape as close to the original as possible.
Frosted Glass Storefronts
This is a great option if you choose to let light into your store and you want to still maintain privacy for your customers to browse around and not be seen from the outside. Frosted glass will also provide a good fit for any surroundings. This type of glass will fit into any type of backdrop no matter if you are in a large city or a small rural area. This decorating idea works great for a bed and bath store. You can design the construction as if it was a shower entrance. This creates a unique look. Frosted glass also gives a different look to the light that passes through the store. When you are inside you can't see out, but you will have a unique translucent look.

Sky Windows and Doors
2545 Stillwell Ave., Brooklyn, NY 11223
(718) 517-9178 | (888) 759-5963
Map (Directions)