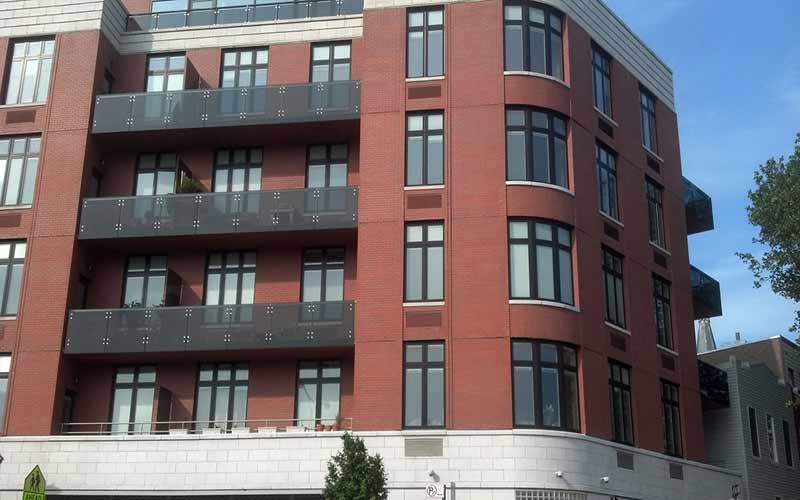 You can appreciate the sheer beauty of glass railings by the unobstructed majesty of the view once hindered by traditional, solid railings. Whether gazing out onto midtown Manhattan through your glass storefront windows or looking for a friend on an escalator in a downtown department store, glass railings allow you to take in the whole picture.
Glass railing and other services come highly recommended by past clients. Sky Windows & Aluminum Products deliver artistry and quality with every glass railing system. You get exceptional value while improving your home or commercial building.
Quality and Design — No Contest
Sky Windows offers flawless designs for high-quality glass railings. They railings are custom-made, so they're the perfect fit for any residential or commercial space. Composed of high-grade, tempered materials, the railings are ideal for both interior and exterior applications, including:
Entire glass railing systems
Alongside glass stairs
As part of renovations
In patio designs
For pool fences
Wind guards
Post systems
Safety barriers
Whether you're looking for a new NYC installation or want to replace the existing railings on your Jersey Shore property, the highly trained and reliable experts at Sky Windows & Aluminum Products can help you realize your property's potential and increase its value. The work speaks for itself.
Glass Railing Installation
Sky Windows specializes in quality and durability. You have access to the top brands on the NYC market. You can count on fine craftsmanship that lends an air of distinction to any installation. The skilled artisans at Sky Windows can turn your dreams into reality — they specialize in adding splendor to the New York City skyline.
The speed and efficiency of the Sky Windows highly-professional team means you can achieve beautiful results without having to put your life on pause. These installation experts care about results, and they know how to get the job done. Rest easy in the knowledge that you hired the best.
The Sky Windows Promise
When you use Sky Windows & Aluminum Products to design, build and install your glass railing, the goals are simple:
Provide you with the ultimate in visual appeal
Give you peace of mind during the whole process
Do every job at the most competitive price possible
Never sacrifice quality
Provide the best products at the best price
Save you time, money and frustration
Convenient and professional, Sky Windows serves all New York City and the surrounding Tri-State area. You get to choose from a lineup of revolutionary styles and designs. Sky Windows' glass railings are as attractive and versatile as they are durable. When it comes to residential and commercial glass railing installations in New York and New Jersey, you need look nowhere else.
Call or write to Sky Windows & Aluminum Products. Talk to the experts to discuss design options. Tap into the experience and creativity that makes the team at Sky Windows so valuable. Together, you can craft the most stunning and efficient installation possible. You'll not only delight in the results, you'll also reap the compliments for years to come.
Request Free Estimate
Call us for an appointment or stop by our showroom
We invite you to visit our designer showroom or call for an appointment so we can discuss the material varieties and designs that will best compliment your commercial or residential needs. Our highly skilled installers are well-known for providing the absolute best work that consistently exceeds our customer's expectations.
GET A QUOTE
Glass Railing Design, Manufacturing
Our modern custom-made commercial and residential systems are perfect for either an exterior or interior application. These can include: renovations to patio designs, pool fences and wind guards, post systems, safety barrier installations, replacements and new installations.
Glass Railing Wide Range of Options
Hardware design and materials
Tinted colors
Customized edging
Bevelled design
Tempered materials
Glass Railing Installation
We specialize in offering the top brands that will most certainly lend that air of distinction to any application that you may have in mind. Our highly skilled professionals will be pleased to sit down with you and discuss your design options. They will also offer advice as to the most beautiful and practical installation that will delight you and elicit compliments for years to come.
We have a complete selection of safety- and performance-tested industrial solutions .Our goals are not only to provide you with the highest level of visual appeal, but to save you time and money on your project as well. This is the main reason why our services are highly recommended by our past clients. We ensure that our customers receive the absolute best when it comes to installation artistry while providing value for our work. All you need to do is to view some of our past installations and we're sure that you'll agree – when it comes to residential and commercial installations, no other company can exceed SkyWindows & Aluminum and Doors for quality, design and value.
Sky Windows and Doors
2545 Stillwell Ave., Brooklyn, NY 11223
(718) 517-9178 | (888) 759-5963
Map (Directions)