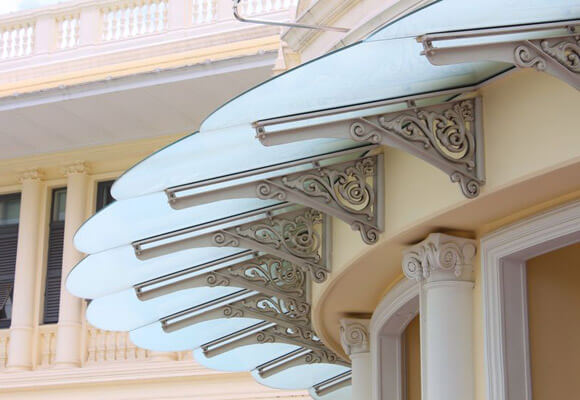 With the growing number of architectures designing with glass there is an advance in glass technology that is showing up in many different ways everywhere. Glass canopies are now being designed that can be mounted with a type of hardware that will not need frames to hold the glass. These frameless glass canopies look great and add a fresh clean look to many different types of architecture. They are being used in both commercial and residential applications. With the use of glass installation techniques of today glass is being used in ways that we would not have thought was possible in the years past. Frameless glass canopies are one of those fast growing techniques.
Frameless Glass Technology – Durability and Great Look
Frameless glass technology is not only designed to use glass as a shelter but they are also amazing looking additions to any building. In some cases, the glass canopies that are constructed of frames are very strong when it comes to the strength of the structure. Even though these frames are secure at times they can block the sunlight as well as get in the way of your vision. With the use of stainless steel hardware glass can be mounted in ways that will not obstruct the vision through the glass. Not only stainless steel hardware is weather resistant and requires very little maintenance it will also provide an amazing addition to any architecture. The combination of stainless cable and stainless bolts has always been a great addition to any type of structure.
Types of Glass for Frameless Glass Canopies
One of the questions we may ask is "How does glass hold up to some of the situations that weather can bring?". This is a great concern of a lot of glass canopy clients. There are several types of glass that can be used in the construction of glass canopies. In the construction of simple frameless glass canopies, glass that is at a thickness of ½" or thicker is used. The laminated glass gives it the strength needed to be used for this type of application. In larger frameless canopy applications an acrylic glass is used. This acrylic glass is used because of the weight of this type of glass. This glass application is lighter in weight allowing it to be used in larger applications. Acrylic glass can also be made in different shapes and sizes that add even more style and glamour to any frameless glass applications.
System That Is Beneficial for Smaller Entrance Ways
Frameless glass canopies are also a great choice for some of the smaller entrance way of many homes and businesses. One thing that makes these types of canopies useful over entrance ways is the fact that posts or columns to support the canopy are not needed. You have the protection you need but do not have the post and columns crowding the smaller entrance ways. If you are planning a construction of a new home or a new building for your business, consider taking a look at frameless glass canopies to add a great touch of innovation to your building and contact your local contractor, SkyWindowsNJ.com. They also provide glass canopy installation and other types of glass installation.