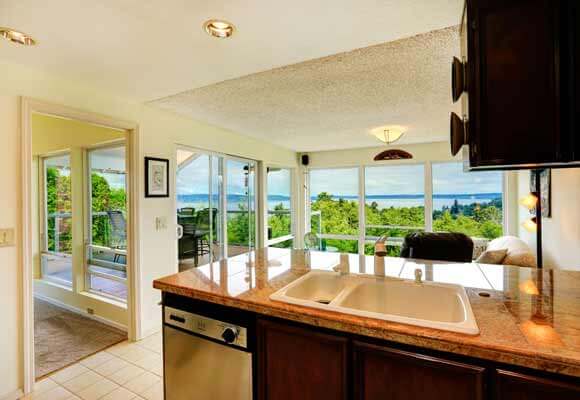 Glass partition installation is used in many different ways in the modern architecture of today. When we think of glass partitions we always think of places such as the lawyers, dentist, doctor's offices. Also, we usually see glass wall partitions in the office buildings and malls. Glass office partitions are fast becoming a choice for residential applications today. These partitions are used in ways that will add an extra touch of style and elegance to almost any room in the home. With the development of safer glass and construction techniques glass partitions are making a big impact in home and commercial design.
Glass Partition Walls – a Trend in Residential Design
Glass partition wall design is a more modern trend for separating bedrooms, bathrooms, kitchens, and office from the rest of the home living areas. Drapery fabrics along with glass are among some of the best combination choices when separating the different areas of your home. The room dividers that separate bathrooms and bedrooms are often made of glass to separate and protect from the steam of the bathroom. This method can also be used with drapes when you prefer more privacy. This is a very elegant way to add style and elegance to any room and also a great way to save space.
Glass Partitions Between Kitchens and Living Rooms
Glass partition walls are also used between kitchens and living room to help separate between the two rooms while also not closing the kitchen off from the rest of the house. These kitchen glass partitions allow for a wide open feel while still protecting the living room and the rest of the house from the noise and heat that comes from the kitchen. Not only do they protect the surrounding rooms glass partitions have been known to have family crest as well as other elegant designs etched into the partitions allowing for a personal touch.
Smart Glass Use in Glass Partitions
Another great advancement of today when it comes to glass partitions is the development of smart glass. Smart glass is a clear laminated glass that can be switched on to become opaque for privacy. This glass is a great choice for privacy without using drapery. This type of a partition is a great choice to use in showers as well as glass office walls that separate the bedroom from the bathrooms and can be switched between clear and opaque for a privacy choice without spending the extra money on drapery and drapery hardware. Added with the right finished hardware this is a great looking partition.
Glass Partitions Installation and Maintenance
With the innovations of glass technology we have today there are many different applications that will appropriately accommodate any need that you may have in your home. It is hard to beat the elegance and style that glass can provide today. Glass partitions that are well kept and cleaned often will look great while providing you with the sanitation and cleanliness needed for a healthy lifestyle. Be sure to do the research needed to make the decision of the placement of your glass walls and partitions. Your local glass contractor, SkyWindowsNJ.com, will be glad to answer any questions you may have about using glass partition walls in your home or place of business.