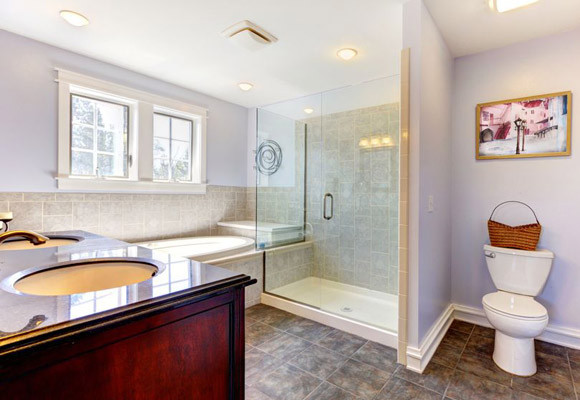 The development of glass and the way glass is used has changed a great deal in recent years. Glass techniques have offered many new ways that we can add to the beauty of any project we want to design. One of the biggest advances that have been made is the way the use of glass has led to an increase in glass shower enclosures. Glass shower enclosure is used for several different reasons. We will take the time to look at several reasons why using glass shower enclosure is the best fit for your new bathroom project or upgrade.
Glass Shower Enclosure Fits Any Area
One of the biggest reasons why glass is a great choice is glass can be adapted to just about any size to fit any area. In some cases where a tub enclosure is used you will need to have the specific room available so the tub and shower enclosure can be installed. You can install a custom glass shower enclosure just about anywhere at any size. You can have a shower made to fit a specific corner or existing wall enclosure. Another great option with glass is you can also construct a stand-alone shower stall that does not need any support from the surrounding walls. Installing the glass shower in a corner or as a stand-alone will create other spaces in your bathroom that can be used for other purposes and saving you space.
Elegant Look
Another great reason to use glass shower enclosures is the look of elegance that you will receive from glass. Paired together with some of today's great shower heads and faucet features you can create a one of a kind place that is yours but also stands out from the rest. Not only will the new shower heads look great they are made up of some great water saver features that will help cut energy cost and save you money not to mention the great functionality of each piece. There are some outstanding looking water fixtures that will give your glass shower enclosure that one of a kind look.
The Variety of Hardware Options
The hardware options for glass shower enclosure are outstanding and can add a lot to the beautiful look of your glass shower enclosure. You can add fixture such as soap and shampoo dispensers to towel racks to also add to functionality of your shower. By pairing your glass shower door hardware to match the towel racks and other items you will receive an outstanding look. Shower hardware comes in many different colors and finishes that are designed to enhance the look of your shower enclosure.
Discuss Your Options with Our Professionals
These are just a few reasons why you should choose a glass shower enclosure. No matter the type of construction you want to accomplish glass showers will fill your needs in new construction or bathroom remodeling. Be sure to take the time before you start you project to talk to your glass contractor in your area, SkyWindowsNJ.com, providing glass shower doors installation, to see the many options you have available for you. Glass shower enclosures will give you years of great looks and service.