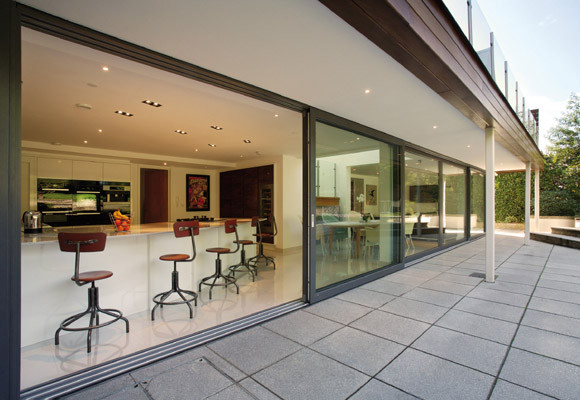 As a child growing up I can remember my house included a sliding glass door that would open up from our den onto the patio where I loved to spend a lot of my time. Our door was located in a den where we spent a lot of family time. We would open the patio doors up when the weather would provide us a chance and we would have access to the den as well as spend quality time on the patio. Today's construction technology has provided the same feel for us but on a larger scale. Sliding glass walls nj has become a huge choice over sliding glass doors.
How Do They Fit Your Needs?
These sliding glass walls nj can be constructed in any size you need. The opening size you choose will accommodate larger numbers of people. Perhaps you have a reception hall that you rent and think of the many options provided to you with the addition of sliding glass walls nj. You can open up your great room with access to the patio to give your clients the option to be inside or out.
How Do They Look?
With the invention of tempered laminated glass you will have many options available to you for the type of glass to use. You could use tinted glass to help conserve energy as well as giving your glass a hue of color to add to the warmth of your building while giving the occupants access to the outside and inside at the same time.
How Long Will They Last?
Glass panels will give you a long lasting low maintenance option that other panel materials cannot provide. Wooden panels will always need to be maintained to protect against long term weatherization. Wooden panels will work loose and eventually have to be replaced. Glass panels will provide you with a wide open feeling and all you have to do is clean your panels. Weather and elements will not have an effect on your panels.
How Strong Are They?
These panels are made from a laminated tempered glass that will have a strong structural element to help protect you from wind and other weather related conditions. Even if you have to keep these panels closed you will still maintain that wide open feeling that you will not receive from other solid panels.
Any Replacement Problems?
If for any reason one of your glass panels become damaged they are easily replaced. You will not have to take down or remove the whole wall to replace the broken section. The broken glass panel is easily replaced. You can also have any chips or cracks that may occur in your panels repaired by a professional to prevent the replacement of the whole panel.
Will Sliding Glass Walls NJ Add Value to My Building?
As with any high end option you choose during a construction or remodeling job you can have confidence that sliding glass walls nj will be a great investment in your project.
Do your research and talk to your local professional, SkyWindowsNJ.com, to see if exterior sliding glass walls nj will be an option for you. SkyWindowsNJ.com also provide, window replacement brooklyn ny and window installation.