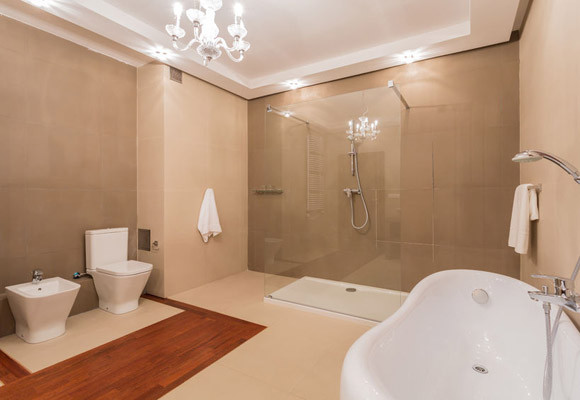 Big strides have been made today when it comes to bathroom design. One of the biggest additions to any ideal bathroom is the showers. Showers of today have become an elegant addition to any bathroom. A shower can be added to just about any location and are constructed from beautiful tiles and glass blocks that provide a pleasant retreat from the daily routines we all experience. Along with these fantastic showers come frameless glass shower doors. These doors help to give the shower a great finishing touch while benefiting the shower in several different ways. Not only do they provide great benefits but also great functionality.
Shower Doors That Look Elegant and Are Easy to Operate
Frameless glass shower doors will provide you with a more open feel. You will not feel like you are confined inside a small shower much like you would in the showers of the past. In the past most showers were made of tub and shower combinations that used sliding glass doors that hung from tracks. These sliding doors were hard to operate and always seemed be covered with soap scum and build up. Frameless glass shower doors will be easier to operate as well as keep clean. With the openness of these doors you will not cover up the beauty of the tiles work and other great shower and bathroom fixtures keeping your shower the focus and showcase of your bath.
Frameless Glass Doors Are Stronger
Frameless glass shower doors are also much stronger than your typical shower doors offerings. These doors offer you a look of elegance with the great quality of toughness. Standard shower doors range from 3/8" to ½" in thickness. This will provide your shower with doors that are rigid and will last for years to come. Frameless glass shower doors are made completely of glass. They do not need frames to support their weight. These doors operate universally by opening and shutting on hinges. This will eliminate any type of track and other hardware that would get in the way as well as take away from the elegant look of your shower.
Safety of Frameless Glass Shower Doors
A question that you may ask as a homeowner when you start looking into frameless glass shower doors is whether the glass is safe if the edges aren't hidden by a protective frame barrier.  Frameless glass edges are filed down to a smooth surface that presents no danger to anyone climbing in or out of your shower. And since glass showers are made of tempered glass they are also very difficult doors to shatter or break. Glass shower doors are actually much safer than the shower doors from the past. Glass doors can be used in any design situation. These doors can be circular, oval, or triangular in shape allowing you to add the doors to any type of shower design.
Seek Professional Advice
Consider adding frameless glass shower doors to your shower to help upgrade your shower proving you with the look of elegance that will enhance any bathroom. Contact your local contractor, SkyWindowsNJ.com, to have your frameless glass doors measured and designed for your showers and baths. SkyWindowsNj.com also provide shower doors installation. Make your shower standout from the rest.