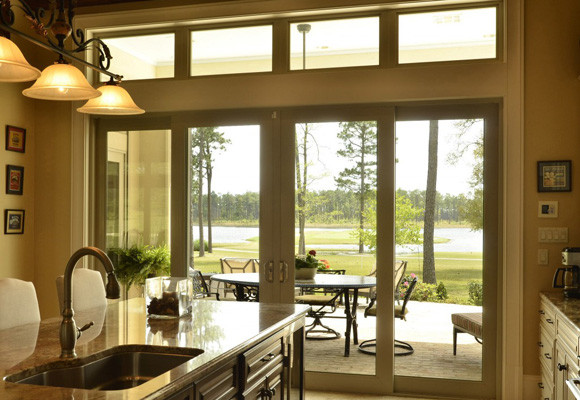 If you are looking to add a touch of class to your bedroom, bathroom, or any other room in your house you may consider adding sliding glass doors. These doors will add a touch of elegance to any room. They can also add some practicality with the addition of mirrors in the place of regular glass. Sliding glass doors can be adopted and custom made to fit any opening you want to close off or decorate. You can also add a special touch with custom hardware to create your one of a kind look to any sliding glass door. There are several ways that you can use this type of doors throughout your home and we will take a look at several uses.
Replace Your Closet Doors with Sliding Glass Doors
Sling doors became popular for closet spaces over the last couple of decades. The reason the sliding doors were used was to save room on your bedrooms or bathrooms. They replace regular hinged doors because when you opened the regular door they would take up space in your rooms. Adding sliding glass doors would solve this problem. In earlier times these doors were made of a lightweight door material known as luan. They were later replaced with mirror doors. You can make a room look bigger with the addition of the mirror glass doors. After you add the mirror glass doors you will also gain the use of full length mirrors for personal use.
Room Separation with Sliding Glass Doors
If you have a dining area or formal dining room and you need to close the rooms off at times sliding glass doors will make an elegant choice to accomplish this task. You can have siding glass doors cut and custom made to fit any size opening you want to cover. There are many different types of hardware choice to fit any type of decorating situation you have. You can also have your choice of solid glass or having panes incorporated into your doors. Sliding doors will also save space over regular French doors also.
Sliding Glass Doors in Shower and Bathroom Enclosures
The way that modern day bathrooms are designed will provide many custom made situations. Bathrooms are designed in such a way that you can utilize every bit of space you have. At times these situations provide for custom made showers that are different and in a lot of cases they will require custom fit enclosures and doors. Sliding glass doors can be custom fit to any shower enclosure regardless of the size. You can also add accessories such as towel bars, soap holders, shampoo dispensers, custom handles to obtain a custom look and use for any situation. Sliding glass doors can also be made from obscured glass if you choose to have privacy. Obscured glass is available in a variety of patterns to choose from.
You can choose sliding glass doors to accommodate for any type of remodeling or new construction need that will come up in your project. Be sure to check with your local glass company to have your custom glass project taken care of. Your glass contractor will be able to show you the many options available to you.