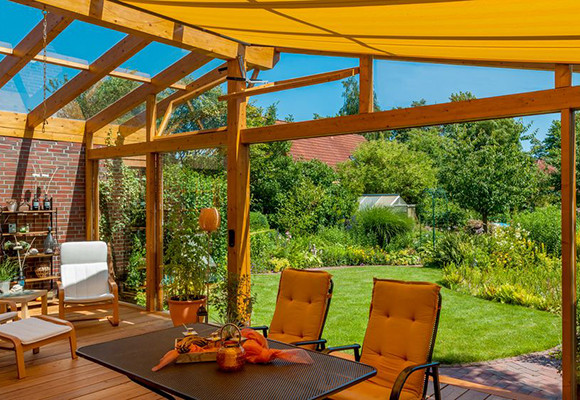 We all know what kind of advantages that a canopy can provide for all of us. The first thing that comes to our mind when we think of a canopy is shelter. All of us has at one time or the other pulled up to the curb while it was pouring rain and stepped out onto the curb under the canopy to help us from getting soaking wet. We have all strolled down the sidewalk on a hot summer day to find refuge from the heat under some of the existing canopies we come across. Most of the canopies we are used to seeing are made from lightweight materials such as aluminium and covered with various colors of fabric or canvas. Today a huge step has been taken when it comes to the construction of canopies. Glass canopy nj provides a long lasting and low maintenance option in architecture and will provide you with many options that a traditional fabric canopy will not provide.
Special Appearance
One of the first things we see when we began to enter a fancy restaurant or a luxury hotel is the awesome looking canopy we see. Most of the time this is a glass canopy nj. With the development of acrylic and safety glasses of today many different shapes can be obtained. This great advance in glass has given us some great looking architecture that not only looks great but will last forever.
Longevity of Glass Canopy NJ
One thing that we all know is that nothing will last forever. Canopy construction is expensive regardless of type of canopy we use and what material our canopy is made of. When you pay out that kind of money you want a great return in your investment. That is one great option that a glass canopy nj will provide for you. A glass canopy nj will not turn brittle and become torn like a fabric canopy will. Glass will last you a lifetime especially the acrylic glass that most glass canopies are made up of today. Some glass canopies can be constructed in a way that you will not have to use the metal framing to support the glass canopy nj that you will need to use in a traditional canopy construction. The less framing material, the less chance of maintenance.
Architectural Design Options
With the development of acrylic glass there have been many different bridges crossed when it comes to architecture design using glass. With this new development architectures can add a special unique touch when designing buildings today. Glass canopy nj can be found in many different shapes such as domes, waves, valleys, as well as flat. Acrylic glass is also lighter that traditional glass so the acrylic panels can be constructed thicker allowing to span larger areas and allowing for more intricate designs.
Contact Your Local Contractor
If you are considering to add a glass canopy nj to the front of your business check with your local contractor, SkyWindowsNJ.com, to see the many options that they have available. A glass canopy will give you years of service as well as getting what you pay for.