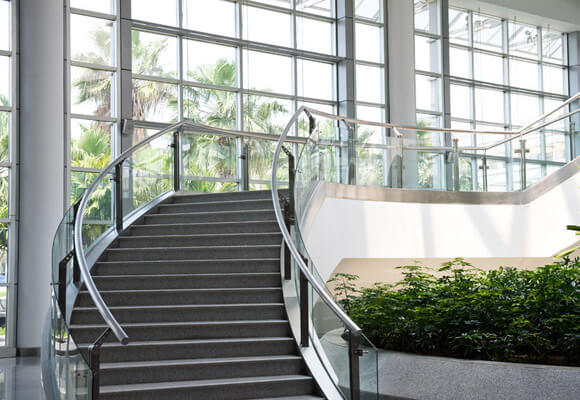 Banister and handrails are not just another way to keep us safe. In today's architecture they are used to provide some of the most awesome ways to display glass and terrific looking hardware that will add a touch of style and elegance to any décor. Both inside and outside guardrails are now constructed from several types of materials for the frame and then add glass for a very appealing and functional touch. There are several different techniques that are used that finish off these guardrails and glass handrails in ways we never thought possible. We will take a look at some of these techniques that make banister rails and glass handrails a work of art in the architecture of today.
Fixed Face Glass Handrails
Fixed face rails are mounted with different types of hardware so the hardware will not hinder the visibility through the panels. Fixed glass handrails will add value and prestige and is growing in popularity in homes, public areas and commercial buildings. This type of glass railings mounts will allow your glass to be structurally sound with minimal intrusion of a crystal clear view.
Spigot Mounted
High grade stainless steel mini posts known as spigots that support the glass panels providing a classic look and combination of stainless steel and frameless glass. These are small stud pieces that are mounted in the foundation and the glass in them placed in a standing position. The glass is attached to the studs by stainless blots.
Channel Set
In this method glass is mounted in an aluminum base inside a channel that is located in the base. In some cases, this channel can be found mounted on top of the foundation where the glass railing is located. In some of the more elegant applications these aluminum frames can be found recessed into the floor or foundation allowing only the glass panels to be seen in this aluminum glass railing system.
Semi Frameless Fixed Post
This is a more traditional look where the glass panels are mounted to the stainless steel post that is mounted to the foundation. The glass is then mounted to the post by use of stainless steel hardware to provide a great modern look.
Stainless Steel Post and Rail
This is another traditional method much the same as the fixed post method. In this method there is a handrail that is mounted from post to post providing a stronger handrail for better protection and safety.
These are just a few of the many methods in which glass can be combined with stainless steel rails, hardware, and post to obtain a great modern look for handrails. There are many other methods that will use other types of materials other than glass to attach to the post and rails. In some cases, stainless cable and wire are used that are placed between the posts to obtain a nice industrial application. If you are in a new construction project that will require handrails for protection you may want to contact your local contractor, SkyWindowsNJ.com, to take a look at some of the modern applications that are being used for rails today. SkyWindowsNJ.com also provide glass railings brooklyn ny, glass, cable and metal railings installation and repair.