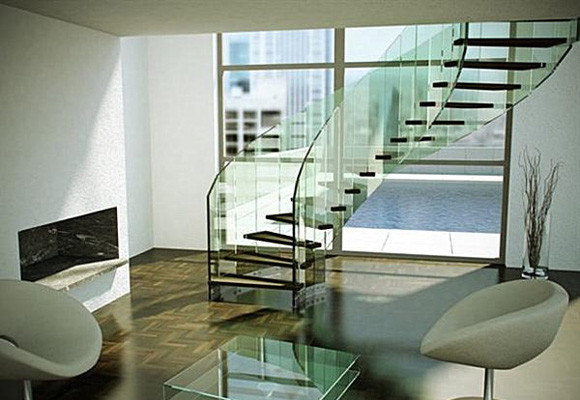 Glass Railings in Public and Residential Construction
Today's modern designs and architecture will lead to some very detailed a different designs no matter what type of building is being designed. If you are in a shopping mall, browsing through a new public building, or any type of modern building you will see how popular glass railings have become. Glass railings provide you with endless design options no matter what type of building is being designed. Most of the time we think glass railings are made for public building applications. There are also many options available for residential construction also. Glass railings can be designed to accommodate for any type of construction from contemporary to vintage.
Exterior Glass Railings
Exterior glass railings are becoming more common for outdoor stairs and railings. The railings are constructed from thick laminated glass that will give you a more wide open feel. There are also a couple advantages that glass will provide over regular steel and wooden railings. One of the biggest disadvantages is the long lasting lifetime results you will get from glass. Steel and wooden railings will have to be maintained from year to year. You will always be replacing rotted wooden spindles and rails and always adding paint and primer to steel to keep from rusting. Another advantage that glass railings will bring is the view you will receive. Your view will not be blocked while you are lounging on your patio or deck.
Interior Glass Railings
Interior glass railings are becoming a very common choice in today's construction and architecture. These glass railings will give you many different options when it comes to designing creating spaces that will seem to be wide open. By adding glass railings and panels throughout your home you will create visual effects that will be truly unique to your own personal design. In some situations you can create glass panel rails that do not need the railings. With the addition of posts and hardware you can have a one of a kind set of railings with the many hardware options available to you.
Glass Combinations for Glass Railing System
You can also change the entire look of any type of glass railing system by using the many types of glass combinations that are available to you. In some cases you may choose to use plain glass panels which is the most common choice. Etched glass panels can also be custom made to fit any personal touch of elegance you want to add. Stained glass panels will add color to any design situation. Frosted glass panels will add a very elegant touch also. With all the options available to you if you chose to try glass railings you can check with your local glass contractor who will be glad to answer any questions you may have when it comes to design and options. Before you make your final decision be sure to browse around some of the malls and buildings in your area to see some of the ways glass railings are utilized.