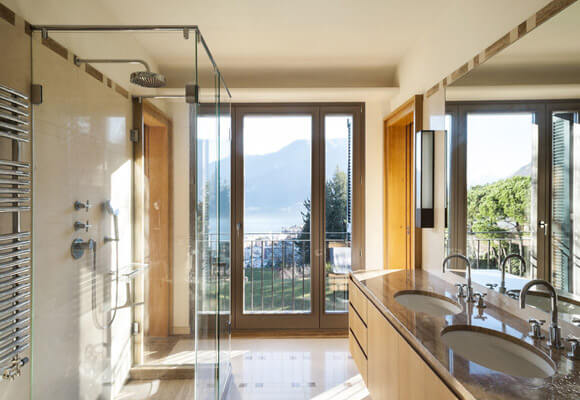 There are many situations when we need to choose shower doors for glass shower door installation when renovating homes or when we build a new one. Mistakes usually happen during the choice process because of lack of information. Property owners end up choosing something that will cost a lot in the long run due to necessary repairs and maintenance services.
Shower doors make bathrooms beautiful but you have to choose something that is highly appropriate. Take a look at the tips below in order to make a proper decision regarding glass shower door installation.
Measurements
The first step you have to take is measure the gap that needs to be covered. This is important as you would end up with a shortlist of door types that you may choose. For some homes a glass shower door installation like that offered by SkyWindowsNJ.com would be great while for others the best option would be one that would be smaller. Size dictates type availability.
Budgets
Money is always something that people have to take into account because some custom shower doors are quite expensive. While it is obvious that you may not be able to afford some of the options, you need to be sure that this is actually the case by keeping your eyes open on all opportunities. Nowadays there are many stores with doors for basically all budgets and from time to time you have access to tremendous discounts. Also, you can buy shower doors online.
Refurbishing and Repair
In the event that you want to refurbish the bathroom door, you have to be sure that it looks appropriate, according to bathroom design. Bathroom renovating projects usually include the replacement of furniture. In this case, the shower doors that you have may not be appropriate. See if you can refurbish them to an appearance that is suitable. If not, you will need to opt for replacements.
The only real problem with refurbishing is that it is not something that a regular homeowner can do. It is important that you take the necessary time to see if you can do it correctly. If not, hiring a professional repairman is what you have to do.
Glass Shower Door Installation
Out of all the different shower door options available, glass shower doors stand out as being highly popular, mainly because of the way in which they look. There is no way to question the fact that these doors are tremendous but you have to be particularly careful during glass shower door installation or repair. That is because glass is dangerous, especially when broken.
Have patience and always choose the option that is great for you. This may seem difficult at first glance but if you are patient, you are going to be able to look at all the opportunities that are available, which is exactly what helps you to make a great decision. Those that hurry end up making a huge mistake: they only think about looks or money. Make sure that you do not make this mistake. It is very important that you take the necessary time and whenever you feel that you are over your head, you need to call professionals.