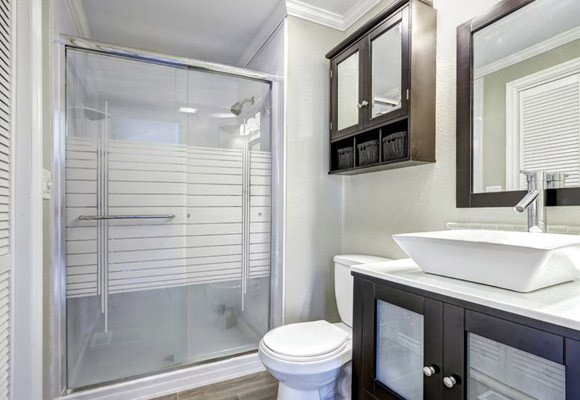 A lot of times when you are ready to upgrade your bathroom one of the most common items you concentrate on is upgrading your shower enclosure with glass shower doors.
Renovating Your Bathroom
You have upgraded everything in your bath and now it is the time you make a decision on your shower door. After spending a lot of time, effort, and money on remodeling your bath and upgrading your bath you want to make sure that the glass shower doors you choose will be ones that will add to and compliment the rest of the project you just finished. This article will help you to look at and see what type of options are available to you when you decide to choose your glass shower doors.
Glass Shower Doors – Enclosure Options
The type of enclosure you decide determines on the type and size of shower you have. There are three common type of enclosures to choose from. You can install glass shower doors on any size of enclosure you have. Frameless enclosures achieve an open look by combining heavy ⅜-inch to ½-inch thick glass with special low-profile hardware. Handles are installed into the glass to emphasize the minimal look. The glass can be cut and beveled to any size. Designed with 1/4-inch clear glass or 3/16-inch pattern glass a semi-frameless style combines frameless and framed options. The main support points like the door hinge or adjoining glass panels can be framed while leaving door edges frameless. Fully-framed enclosures for your glass shower door are made with thinner and lighter 3/16-inch glass supported on all sides with structural framing. The hinges and hardware are attached. The handle is generally a small fixture mounted to one edge of the metal frame.
Glass Types for Your Choice
As you have seen the thickness of the glass depends on the type of shower enclosure you choose as well as the type of shower you have. There are several options you can choose when it comes to the type of glass. Clear glass in a common choice but a lot of the glass shower enclosures can include the choice of a color tinted glass. One of the most popular choices is using an obscured glass that will provide you with a more private feel. Some of the obscured glass choices include certain patterns. These patterns will add to the design technique you use in your modification projects. Some of your more expensive glass will come with an option to stay clear until you turn your shower on and the temperature change the water creates will make your glass shower doors foggy.
Finishing the Project with Right Hardware
There are a ton of options available to you when it comes to choosing hinges, handles, and soap and towel holders. Colors such as bronze, gold, and chrome are some of the most popular choices. The hardware you choose needs to compliment the work you have already created so the decision you make can be a very important one.
No matter which option you choose you can talk to your local contractor, SkyWindowsNJ.com, to help you decide before you get started on this great project.