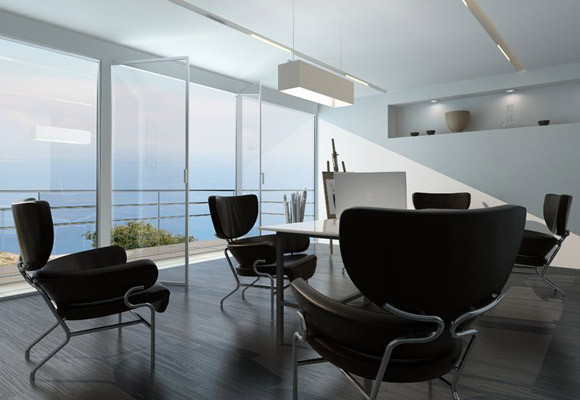 Glass wall partitions is a great way to design and close in large areas creating the smaller rooms needed for conferences and many other types of rooms that a larger area can accommodate. Frameless or framed glass walls are very elegant and will give you the privacy needed to turn these framed glass partitions into the office space. You will also save time and you will be able to remove and add more partitions as needed without the construction hassle you have from conventional wall construction. There are several different types of glass partitions for you to choose and take advantage of to fit whatever need you may have in partition construction.
Single Glazed Wall Systems
Single Glazed Wall Systems provide a simple way to approach dividing interior commercial spaces. Its frameless panels and 1″ channeling produce a sleek visual design.
Acoustic Glass Wall Systems
Double Glazed Wall Systems provide an exceptional amount of privacy capabilities by offering outstanding acoustic value and electric operated blinds. These panels are sound proof and are great for office and conference room applications.
Free Standing Glass Walls
Freestanding Glass Wall Systems can be setup independently of adjacent walls or ceilings. Standing on its own, freestanding partitions allow for a highly-customizable design. These designs can be changed from time to time for your changing needs.
Smart Film Privacy Glass Walls
Using the latest in switchable glass technologies, smart film technology, privacy glass wall creates the possibility of going from transparent to zero visibility at the flick of a switch. This is also great choice to add elegance to any office or conference setting.
Movable Glass Walls
Movable Glass Wall Partitions are perfect when organizing a room with operable capabilities. These operable systems make dividing as well as opening up a space achievable. This is a great option if you need wide open spaces at times and closed in spaces when you need it.
Variety of Choices
As you can see there are many different options available that will fit any need you have to separate and create the spaces you need. At times you may need to change up the way you have your office spaces and conference rooms laid out. There is no better option than to use framed glass partitions to help you meet your ever changing needs. These are also great options if you have a rental building and in some occasion you can change your layouts to accommodate more than one customer at the time. We all know that whatever business we are involved in we are always have ever changing needs that will need to be accommodated.
Seek Professional Advice
Glass wall partitions will be a great choice no matter which type you decide to use. Take a look around at other buildings to see if they are taking advantage of the really convenient options that glass walls have to offer. Be sure to check with your local contractor, SkyWindowsNJ.com, to see what type of option will fit you best. SkyWindowsNJ.com also provide, storefont glass installation brooklyn, sliding glass walls nj.