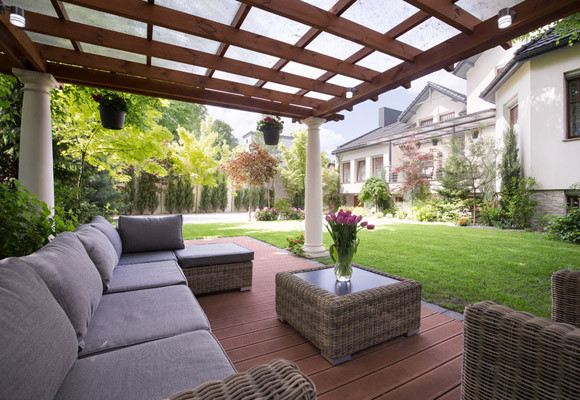 The development of glass technology has grown very much in the recent years. The science of glass development has led to many different types of safety glass for windows as well as different thicknesses and shapes. With the growth of this technology comes the growth of many different architectural uses for glass. One of the most used advances in glass is the use of glass canopies products. Glass canopies provide different advantages than your typical fabric, metal, or wood canopies. We will take a look at some of the great advantages that glass canopies will provide for us through the latest developments in glass technology.
Architectural Features
When we think of glass the first thing that comes to our minds is a glass sheet. Such is not the case anymore. Glass can now be made into circles, domes, and many other different shapes. Glass can also be made thicker with the development of acrylic glass. With the advances in the way glass is made there have been some awesome ways that architects have been able to design some breath taking glass canopies that will add a great look to any building. Laminated glass has pathed the way for canopies to span greater distance allowing for longer canopies. Another way that glass canopies are now being used is in the modern aquariums we have become so accustomed in seeing.
Allow for the Use of Natural Sunlight
In some of the older fabric and metal canopies lights had to be installed to keep the walkways and store entrances from being so dark. Glass canopies allow for the use of natural lighting by allowing the sun to light up the walkways and entrances. With the development of energy efficient glass the sun will not heat up whatever is located under the glass. Energy costs are cut because the lighting cost is not present with natural lighting. You will also not see the unsightly lamps and wiring it take to light up traditional canopies.
Glass Canopies Low Maintenance
This is one of the biggest advantages from glass canopies. Glass stands the time under just about any type of weather conditions. Laminated glass is stronger and if you live in regions that are successible to high wind the glass will not tear and rip like a conventional fabric canopy. If you are using metals such as aluminum or copper for your canopies they will eventually need to be cared for because of exposure to the elements. Glass has a set it and forget it advantage that is great when it comes to low maintenance. About the only time glass will need to be replaced is when it is broken.
Seek Professional Advice
If you have an older canopy and are considering replacement it is a great idea to consider glass for your canopy. Perhaps you are constructing a new building and looking to add a touch of elegance as well as trying to save money by cutting energy cost. Take a visit to your contractor, SkyWindowsNJ.com, providing glass canopy installation, to see what advantage you can have if you install a glass canopy.