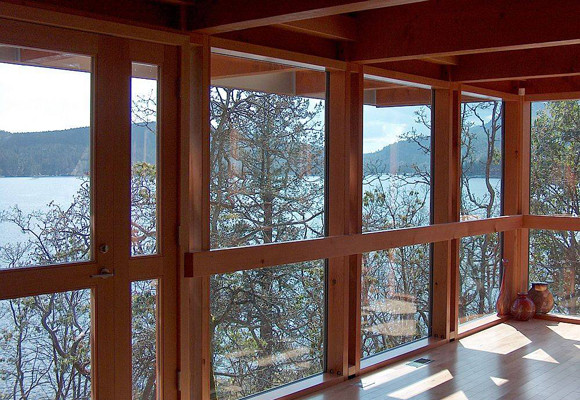 Most of the time when we think of NYC curtain wall construction larger scale construction projects come to mind. You will usually think of hospitals, schools, libraries, as well a storefronts being constructed using this type of method. But today many companies are adopting in NYC curtain wall construction to a much smaller scale. They are also being used in residential architecture and homes. We have to remember that this type of method is not for structure strength but more for appeal. In many residential applications these walls are being used in living rooms, dining rooms, and kitchens to give them an interesting appeal as well as taking advantage of the lighting aspects that come along with glass.
There are some distinct advantages to curtain wall construction that we will take a look at.
NYC Curtain Wall – Long Lasting Construction
Each panel in the curtain wall is made from durable aluminum that will not rust. This aluminum is available in a variety of colors and finishes. One of the biggest advantages of using aluminum framing is the lightweight construction that can be made to the customer's desire. You can make the aluminum frame to fit just about any building as well as the shape to make for some unique one of a kind structures. Aluminum will also never rot or rust and maintenance is cut way down saving you time and money. Curtain walls systems also use tempered glazing that will give you a long lasting airtight seal that will last for long periods of time to element the need for latex caulking or glazing. The glass type you decide to use will also add protection from the elements as well as saving money by cutting energy cost.
Contemporary or Traditional Design
Most of the time a NYC curtain wall will be perceived as a modern style. Curtain walls are constructed of glass and aluminum which are to types of materials that are associated with contemporary design. Large spans of glass fitted with aluminum bars will give you a unique striking appearance. You can cooperate more subtle grid patterns to help lessen the effect to obtain a more traditional design. Doors and windows can also be added to help with the ventilation and add more details to any project. Regardless of the style you choose you will find one that will meet the needs you have in mind when it comes to design. Shelving units can also be added to give your project a different look but ad functionality.
Contact Your Contractor for Best Results
If you are choosing to build new construction or remodeling the structure you are living in now you can do research with the many sources available to you on the internet. Get you designs and thought together and meet with your local contractor to ask any question that you may have about constructing in NYC curtain wall systems. The best thing to do is to take a look at some of the building around you to see the type of construction options that are available to you. Pay a visit to you contractor today to decide on the vision you have in mind on curtain wall.