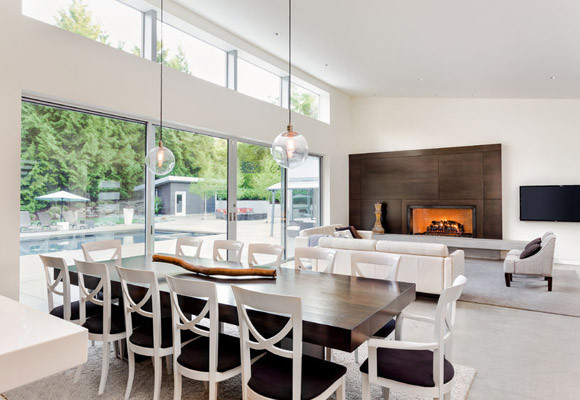 If you really want to bring the outdoors inside, you might want to look into installing sliding glass patio doors. This is a wonderful way of opening the exterior wall so that the room exits into the yard. The sliding patio doors have become a fixture in many homes for good reason. While a nice bay window is lovely and it does open up the wall to a great view it just doesn't match the useful beauty of sliding glass patio doors. The window does not give you access to your glass porch enclosure or outside living area and most bay windows are very expensive. You can achieve a great, open look without spending way too much money in the process.
A Convenient and Stylish Addition to Your Home
The sliding glass patio door is basically designed with a frame that contains two pane glass windows but it is also aesthetically pleasing in design. It also serves as a convenient entrance to your patio space, it also opens the room bringing some of the natural beauty of the outdoors and natural sunlight inside. The sliding patio door is a convenient addition not only to your bedroom but also is used in the kitchen, family, and great rooms. In some cases, there has been more than one sliding patio doors used so the entire wall can be opened when needed, creating a sliding glass wall.
Sliding Glass Patio Doors Are Great for Smaller Houses
You also can benefit from its smart design that does not require swing space for the door to open. Since the sliding patio door slides open rather than swinging into the home you have a lot more space in the surrounding area. This is wonderful for smaller houses that really benefit from the illusion of open space as well as the extra square footage in the room. The storm panels that are used for the glass in a sliding patio doors are insulated so that you will receive protection from the sunlight in the summer as well as allowing the natural sunshine to help you stay comfortable in the winter months.
Sliding Glass Door Frames – Different Dimensions and Materials
Sliding glass doors frames can be constructed to almost any dimension to retrofit any opening you may have in your home. In some cases, the windows of the home can be removed and a sliding glass door frame can be constructed that will fit in the opening after the windows have been removed. Not only can these frames be constructed to certain dimensions there are also several different materials that can be used. One of the most common materials used for sliding glass door construction is aluminum. Aluminum is lightweight and is available is a few different colors and finishes. Vinyl is also a great choice of low maintenance materials available in a vast array of colors.
Consult Your Local Contractor
If you want to add something to your home that will allow you access to your patio or outside living area be sure to check out glass sliding doors for your home or business. Your local glass contactor, SkyWindowsNJ.com, will be able to assist you with any questions you may have concerning sliding glass patio doors. SkyWindowsNJ.com also provide, glass door and window installation.