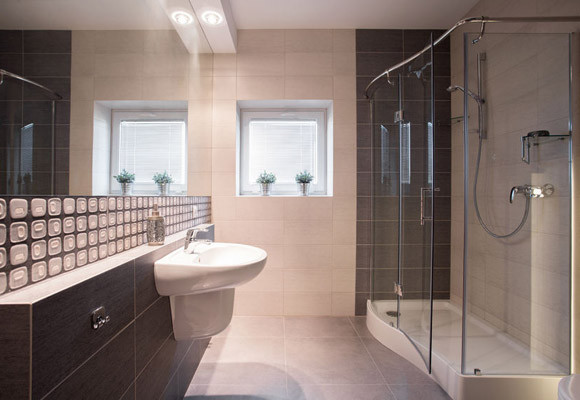 A bathtub to a walk in shower conversion can be easier than you might think. There is a number of reasons why we decide to upgrade our bathrooms. One of the most popular upgrades in bathroom remodeling is a tub to a walk in shower conversion. Our life needs change as we get older. We may also have a family member that can no longer sit in a tub or may also be in a wheel chair and a walk in shower has become a necessity for us. Before you consider removing the existing tub you have you can save money by tub to shower conversion. You may be surprised at the many options you will have available to you. You may also be surprised at the advantage that a tub conversion can provide for you.
Walk in Shower – Safety Aspect
This is one of the most important advantages that a walk in shower will provide for you. You will eliminate stepping into a high tub and the danger of slipping as your enter the tub. Wet surfaces and floors are one of the main safety hazards we have in the bathroom. With a walk in shower the water is confined to one area to help eliminate the wet spots. There is also a variety of other safety options such as seats and handrails that can be added to your walk in.
Walk in Shower Is More Spacious
Your walk in shower will provide you with more freedom to be able to move around in your shower and not feel as though you are in a smaller confined area. You will also have the extra room to add other features, like the extra shower head, storage for soap and other cleaning essentials.
Cleanliness in Your Shower Area
With the extra room you will also be able to keep your shower area cleaner and you will not have to clean the hard to reach spots that a tub will have. With a more open area you will also not have the moisture that will get into tiny corners and remain that could create mold and other unhealthy situations. With the larger area your shower will dry out and remain much cleaner.
Walk in Shower Conversion Options
There is a number of options available to you for a walk in shower conversion. A lot of considerations need to be looked at when you decide on the options available. You can set your shower up for any type of physical situation you may need. There are many different types of seats and hand railings that are available to you in just about any finish imaginable. Another great thing about the shower options is the amount of shower heads and faucets that are available for you to choose from. There are shower heads that can be placed in any location in you shower that will accommodate for almost any physical situation that you may have.
Before you get rid of the tub you have or before you destroy your existing bathroom, be sure to do your research and check with a contactor in your area, SkyWindowsNJ.com, that will show you how you will benefit from a walk in shower conversion. SkyWindowsNJ.com also provide, custom shower doors installation, glass shower doors design, installation.