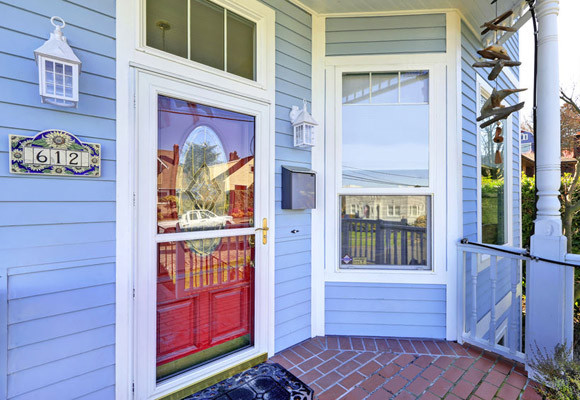 When we look at storm doors the first thing we would ask ourselves is "What is i and how will it work to my advantage?" A storm door is a door that is installed inside the frame of your existing doors that will provide you with a number of advantage that will make the investment of a storm door worth the time and expense of having one installed. In this article we will take a look to see if installing a storm door is an investment that you will want to make for yourself. A storm door will provide some great advantages.
Weather and Storm Protection
We all have completed remodeling projects as well as new construction projects only to add that special front doors that appealed to us for that special curb appeal. In many cases we have chosen expensive wooden doors such as oak and mahogany doors as well as doors made from other exotic woods. These doors at times have intricate carvings and designs that we want to cherish for years to come. The trouble with wooden doors is when they are exposed to the elements they will expand and contract causing the joints of the wooden doors to work loose requiring repair. Installing a storm door will help avoid this type of damage. Protecting your wooden doors frame the damp conditions is very important. Another popular choice for front entrance doors are doors that contain expensive glass inserts that at times include intricate stained glass inserts as well as other type of expensive glasses. The protection that a storm door will provide these types of glass investments is a great advantage. It will be much easier as well as cheaper to replace a broken storm door verses replacing an expensive glass door.
Storm Door Provides Extra Insulation
By storm door installation over your existing door you will be doubling the insulation properties of your entrance way regardless of where you doors is located. Storm doors are available with insulated glass inserts that will provide the extra insulation saving you money. There will also be an insulating air pocket between your storm door and your existing doors that will also help add to your insulating advantage. This extra insulating advantage will help keep you house cooler in summer and help cut heating cost in the winter. In the winter if you have a storm door installed you can open up the interior door to let natural light in while the storm door will still keep the cold air out. Natural lighting is a great thing to experience in the long winter months.
Appearance – Wide Range of Designs
Storm doors are also made from many types of materials such as vinyl and aluminum that will provide you with years of maintenance free performance. These doors can be purchased in several different colors as well with many different intricate designs for that special curb appeal for your home or business. Storm doors will add a great look while still providing many other advantages.
Order Your Custom Storm Door
Storm doors can also be custom made to fit any size opening that you may have in your remodeling or new construction projects. Take a look at what your local storm door contractor, SkyWindowsNJ.com, can offer you today.