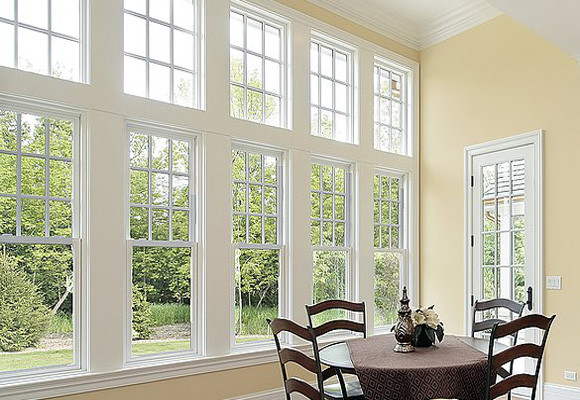 I  can remember as a child growing up when I would visit my grandparents the clean breath of fresh air that would travel through the raised wooden windows they had in their home. There was always something about the look and feel of wooden windows that I developed as a young child that attracted me. I continued to have that love of wooden windows throughout some of the remodeling and construction jobs that I was involved in later in life. These types of windows have a special place in today's architecture. Some projects just do not look the same if these types of windows were not included. With today's innovations in window and energy saving technology wooden windows can be constructed and adapted to any type of architecture. We will take a look at some of the pros and cons to help you decide if wooden windows will provide with the needs that you have in your construction project.
Upside of Wooden Windows
Wooden windows today will provide you more good points than the windows of old times. They are also available in a great variety of shapes and sizes. Here are a few good points that wooden windows will provide for you.
Energy efficiency:
Windows can be custom made with double insulated windows to help you to save money and cut energy cost. Also one thing that a lot of people do not realize is the amount of energy loss that you can have due to convection. When you touch a metal window on the inside on a cold windy day you will feel the cold temperature with your hand. Also you may notice that you will have a small amount of condensation on the inside of your window. This convection will not happen with wooden windows.
Ease of adapting wooden windows to a custom fit:
Wooden windows can easily be made to fit any opening that you may have. Also with the addition of your choice of hardware you can have a wooden window custom fit to fit any remodeling situation. Wooden windows can also be constructed in your choice of pane configuration.
Color of windows:
Wooden windows can be primed and painted any color choice that you choose to help you meet any decoration choice you have in mind.
Downside of Wooden Windows
For many years in the past wooden windows have been the way to go when it comes to window choices. Over the past couple of decades aluminum windows made a huge advancement in the way windows were constructed. Even with today's wooden windows there are a few drawbacks that wooden windows will have.
Expansion and contraction:
Wooden objects have always been known to expand and contract in many certain weather conditions. I am sure that we all have experienced in the past a sticky window. This happens when the moisture or humidity level will rise causing our window to swell and become tight. Only to check it the next day and find it loose again. This will still happen with today's window technology.
Upkeep and maintenance:
Wooden windows will always have to be painted with a good coat of paint to help protect them from the elements. Regardless of the amount of paint and upkeep you do wooden windows will eventually develop rot and will have to be replaced. Metal and vinyl windows will always last longer than wooden windows.
Whatever your construction needs are when it comes to windows be sure to check with your local window and glass contactor to see what he can offer you for your construction needs. You may have a special type of construction project that will take that custom touch and your local glass and window contractor will provide that for you.