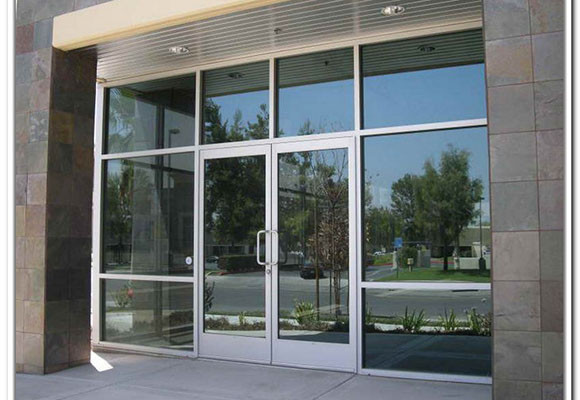 Glass commercial doors new york are constructed to give you years of service as well as providing a cosmetic look to the entrance of any shop or business. Unlike the doors that are located in your home commercial door entrances will have a lot more traffic and will be subject to the abuse that a steady stream of people will dish out each and every day. Not to mention the steady stream of customers but also the rigors that service personnel can dish out also. Commercial doors new york are available in many different type and styles. Each type serves a different purpose and will provide the service need for your business. The wrong style at the wrong place will mean torture for your business. Commercial doors new york could be the life blood of your shop or storefront nyc.
Single Entrance Commercial Doors New York
This is the simplest and most basic commercial door new york that is used on a storefront. This door can be hinged on either side to open up in the direction that is most suited to fit your needs. Often time this door is equipped with door hardware that will slowly close the door behind you to keep the door from shutting in a hard manner possibly breaking the glass. You may find these doors with a full glass panel and in some instances you will have the glass on top with a metal panel on the bottom of the door. This type of door is suited for a smaller business that does not have a whole lot of traffic.
Self-Opening Entrance and Exit Doors
I am sure that if you have visited your local supermarket you have experienced this type of door. These doors are also hinged on one side according on the direction you want it to open. The only real difference between these doors and single entrance doors is the hardware that will detect your presence allowing the door to swing open. The style of these doors are available in much of the same style that single entrance doors are available. These commercial doors new york are a good choice for businesses with a heavier volume of traffic.
Sliding Commercial Doors New York
Sliding doors is a great choice for heavy traffic areas that will require the doors to be opened quite often. The sliding commercial doors new york are located on track that slide back and forth to open or close. These doors can be found in a single mount or can also be found with a double door mount. The double doors are an excellent choice if your business or shop has to be serviced through the front entrance. The sliding double doors will provide the extra space needed to accommodate for this need. This type of entrance is found in places such as hospitals and some of your major shopping stores to provide the services needed.
Work with Professionals
Regardless of the type of business needs you have there is a commercial door entrance that will fit the need you have for your shop or business. Take a trip to your local door contactor, SkyWindowsNJ.com, and see the many options available to you when you are ready to choose your doors.